(not so) basic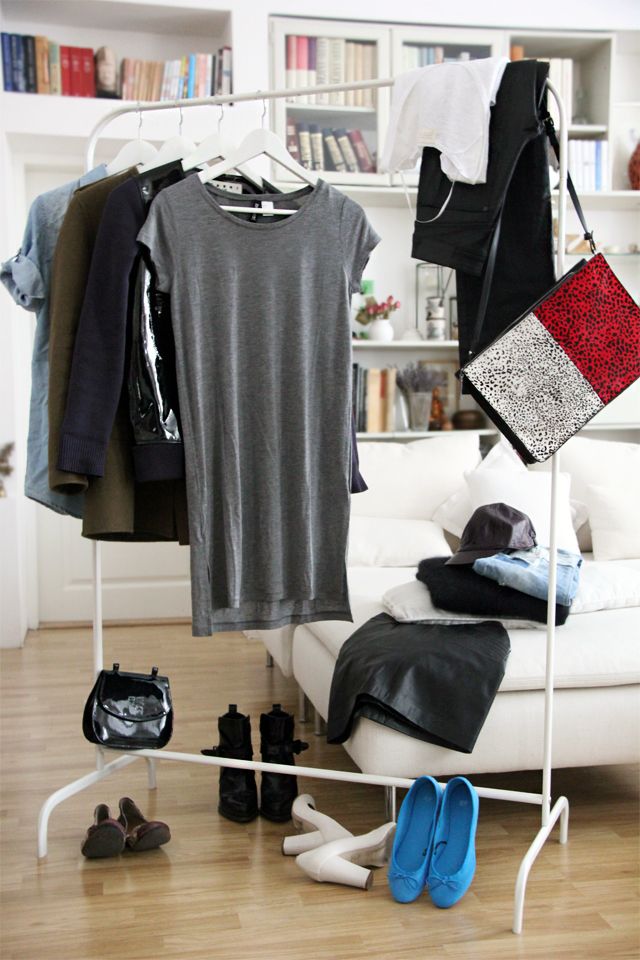 basics have an important place in my wardrobe but i think they're not exactly the basic basics everyone is used to. confused? well, i love super simple things that show off their careless attitude while at the same time they scream "look at me, i got something special". these things hanging here are the ones. not all of them of course, my wardrobe is packed and i could never manage to photograph all those things co nicely on place. but i am slowly working towards purification, trust me. anyhow, this is a set of things that work so well with just about anything and at the same time by themselves because they are not boring.

základní kousky mají důležité místo v mém šatníku, i když mám pocit, že to nejsou až tak základní základní kousky, na které jsou všichni zvyklí. zmátla jsem vás? mám ráda věci, které ukazují svůj nonšalantní postoj a i přesto křičí "podívej se na mě, mám něco extra!". na věšáku je většina z nich. ne všechny, moje skříň je přecpaná a nikdy bych nemohla všechny ty věci nafotit takhle hezky na jednom místě, ale věřte mi, že se starám o postupné pročištění. každopádně, tohle je set kousků, které fungují skvěle se vším ostatním a zároveň fungují skvěle samy o sobě, protože jsou všechno možné, jen ne nudné.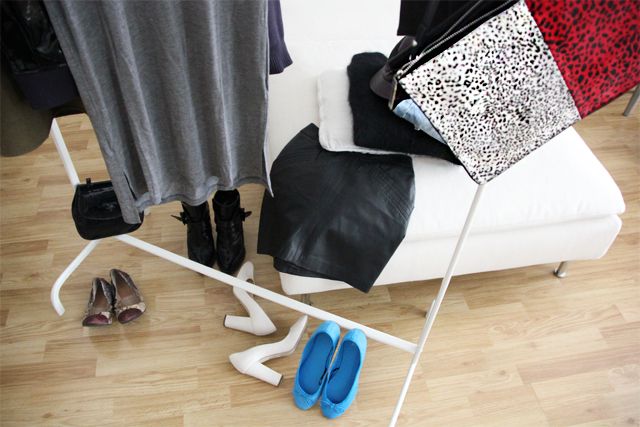 let's start off from the back: the light denim shirt turns off the sober from the shirt thanks to the denim. which is always the good thing, i hate the feeling of being tied in a shirt. what is there to say about the Gant coat, you've seen it in numerous posts so you know how well it works with just about any clothes. the colour is it's cool factor. the patent leather jacket is, well, a patent leather zipper sweatshirt. you can never feel under or over-dressed in this. the long dark grey tee is a better version of the dark grey tee everyone, i repeat, everyone, should have in their home. i can wear this one as a dress too (yay to being petite!) and with a pair of booties i could totally imagine myself sipping coffee in some parisian café feeling like i belong there. the same goes for the black angora sweater. because a dose of fluffy makes everything more interesting. especially a poofy sweater. the classic of all time is a leather skirt, which is a lifesaver at parties. thanks to my lifesaver Sandra, who got it for me. the leather effect works well also on the burgundy leather cap i recently got on sale. just as i slowly began to get tired of burgundy, this cap shows up and teaches me how it highlights everything. not to mention how caps are the best accessory ever. for me. i was a little skeptical when buying these patchwork jeans that felt totally oldschool. but you know what? i don't regret having them at all. i feel klingish in them [google for Elin Kling]. when it comes to shoes, the laid-back daily ones have to be the comfy ones. ballerinas are no. 1 for me in spring and summer, if i could i would wear them all the time. little snake never does any harm and suprisingly works with all other prints and patterns. turquoise ballerinas are recent newcomers so they haven't been worn out yet at (springwherethehellareyou) but i could give you thousands of combinations infront of my mirror. they totally spice up everything and the striking tone just fits every colour scheme. white pumps are no news to you, nor me, yet i didn't get tired of them at all. perfect companions, i would actually say they are more versatile than simple black pumps. imagine a total black outfit, perhaps with the leather skirt and then the black pumps. boring. choose the white ones? magnifique! when it comes to my most-asked-about pair, it would have to be these ankle boots. combat in one way, totally elegant in other. again, they've got something french in them. works all the time. what also does is a pony hair bag. i think it's something to need, if you don't have one yet. they say you need a black bag to go with everything, la di da... not in my opinion! a catchy bag does way more tricks and gets more looks than a dull black. also, it compliments both crazy and simple clothes. see it together with the turquoise ballerinas? you'll be seeing a lot of that in summer! another important piece to have i a little bag. if it's a tiny bag in patent leather it's even better. cross-body little bags are starting to be a great hit and you know, it's also very relieving just to carry some cash and phone around with you instead of the whole - heavy - world.


začneme zleva: světlá džínová košile ruší košilovou upjatost a formálnost právě díky džínovině. což je vždy ku prospěchu, nesnáším ten svázaný pocit v košili. o Gant kabátu vám toho moc říkat nemusím, sami jste ho viděli v nespočtu příspěvků., takže moc dobře víte, jak skvěle funguje s ostatními kousky. jeho barva je tím kouzlem. bundička z lakované kůže je, no, z lakované kůže a tváří se trochu jako mikina, takže s ní nikdy nebudu pod- či pře-strojená. dlouhé šedivé tričko je lepší verzí klasického tmavě šedého trička, které by všichni, opakuji, všichni, měli mít ve skříni. já ho navíc můžu nosit i jako šaty (yay prckové!) a s párem kotníčkových kozaček se v něm dovedu představit, jak usrkávám kafe v nějaké pařížské kavárně a s pocitem, že tam patřím. to samé platí pro chlupatý svetr z angory , protože dávka chlupatosti vše udělá zajímavější. obzvláště takový svetr. dlouholetou klasikou je kožená sukně, která je záchranou pro všechny párty večery. já děkuji mé záchraně Sandře,, od které jsem ji dostala. efekt kůže funguje skvěle také na té vínové kožené čapce, kterou jsem nedávno ulovila s ohromnou slevou. pomalu už mi vínová začínala lézt na nervy, ale ukázala se tahle čapka a zase mě naučila, jak skvěle ta barva pozdvihne všechny ostatní. nehledě na to, že čepice jsou asi tím nejlepším doplňkem. pro mě. trochu skeptická jsem byla při nákupu těchto patchwork džín, přišly mi moc oldschool. ale víte co? jejich nákupu nakonec absolutně nelituji. připadám si v nich totálně klingovsky [googlujte Elin Kling]. pokud jde o boty, těmi pro každý den se můžou stát jen ty opravdu pohodlné. balerínky jsou pro mě číslem jedna během jara a léta, a kdybych mohla, nosila bych je non-stop. trochu hada nikdy neuškodí a překvapivě také ladí se všemi ostatními vzory a potisky. tyrkysové balerínky jsou novými přírůstky, takže venku se ještě neprošly (jarosakrakdejsi), ale už teď bych vám mohla ukázat tisíce kombinací před zrcadlem. dokážou všechno okořenit a výrazná tyrkysová podtrhne každou paletu barev. bílé lodičky pro vás ani pro mě nejsou nic nového, přesto mě ješt neomrzely. jsou skvělými společníky, dokonce bych řekla, že jsou versatilnější než klasické lodičky černé. představte si kompletně černý outfit, třeba právě s koženou sukní. a k tomu černé lodičky. Nuda. ale vemte k tomu ty bílé a bude to magnifique! pokud jde o pár, na který jsem dostala nejvíce dotazů a pohledů na ulici, rozhodně to budou tyto kotníčkové kozačky. na jednu stranu trochu combat, na tu druhou velmi elegantní. mají v sobě také něco francouzského. a to nikdy nevyjde z módy. co také ne, je výrazná chlupatá kabelka. myslím, že tu také rozhodně všichni mají mít nebo alespoň chtít. říká se to o černé kabelce, prý se hodí ke všemu a bla bla bla... já si to nemyslím! výrazná kabelka je dle mě mnohem lepší volbou a trikem, jak outfit ozvláštnit a získat hodně obdivných pohledů na ulici. celočerná je moc prvoplánová. taková chlupatice se hodí jak k jednoduchým věcem, kterým dodá šmrnc, tak k výrazným, kdy do chaosu skvěle zapadne. vidíte jak skvěle jde k těm tyrkysovým balerínkám? téhle kombinace uvidíte v létě asi hodně. dalším důležitým kouskem je malá kabelka, ideálně malá kabelka z lakované kůže. malé tašky přehozené přes rameno jsou momentálně rostoucím trendem a je jasné proč. po tak dlouhé době je docela příjemné nést v kabelce jen mobil a nějaké drobné místo celého – těžkého – světa.


Tezenis denim shirt | Gant coat | Marni for H&M patent leather jacket | H&M long grey tee | H&M angora sweater | Zara kids patchwork jeans | Zara leather skirt | H&M leather cap | Zara pony hair bag | Prada patent leather vintage bag | Eden white pumps | Zara ankle boots | Zara snake ballerinas | H&M turquoise ballerinas