challenge accepted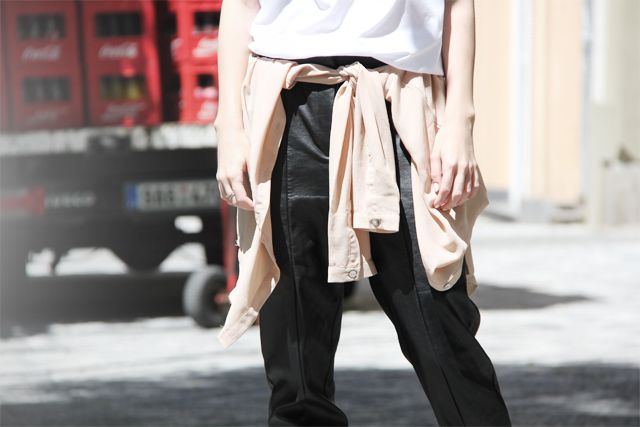 know that feeling when something hideous shows up on the runway and a huge question mark pops up on your mind? think Prada unappealing geisha platforms, awkward Philipp Lim shirts around hips or those prehistoric looking furry sandals at Céline. question mark and huge HELL NO!
and yet it takes one trendsetter closer to your heart and your mind starts racing and giving the garment second chance. then Jayne Min photoshops herself into one of those furry sandals and bam! i am sold. and i keep digging her "bear-foot" outfits with plaid shirts around her waist ever since, secretly wishing for my own pair of them cute fluffy snuggly sandals. i mean doesn't it all look just utterly cool?


znáte ten pocit, když se na mole objeví něco absolutně ošklivého a v hlavě vám naskočí obrovský otazník?  mám na mysli Prada nepřitažlivé geisha platfory, trapně vyhlížející Philipp Lim styling košilí okolo pasu anebo ty neandrtálské sandály Céline. otazník a obrovské TAK TOHLE NE! a stejně to ve finále chce jen jednoho trendsettera, který je vám něčím blízký, aby se vám rozběhly myšlenky a vy jste začali danému kousku dávat druhou šanci. potom se Jayne Min photoshopem "uloží" do jednoho z těch chlupatých sandálů a bum! dostali mě! a od té chvíle absolutně hltám každý její outfit s těmi medvědími botami a s košilí kolem pasu, s tajným přáním vlastnit tyhle skvělé kousky také. chci říct, nevypadá to prostě neskutečně cool?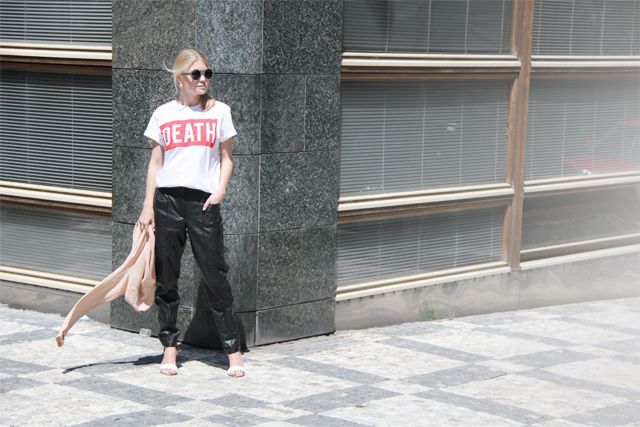 seriously? so when does something you totally hate become a trend you want to try out? when does it become a world (web) wide thing? to me,  a hideous piece that does not please me aesthetically at all becomes pleasing once it's in a combination i like. once i see the whole package. it's true what the spoken of Jayne said:
"Sometimes you are intrigued by fashion, or maybe downright confused. Your instincts tell you you appreciate it, but you're still not quite sure what to make of it. Then you see a street style photo that illustrates how you can take the craziest of things and make them totally wearable. These are the moments I love." - Jayne Min
it's easy to hate the runway, since it's not real life. it's not how actual people wear it. but once a person you know (and who cares if it's just virtually – we are all exploiting ourselves on a daily basis nowadays, it's easy to keep a track of someone else's life) puts a finger on the garment and shows just how it might work in actual life and with their style, it's a challenge accepted. so while a tramp with his waterproof jacket tied around his hips does not please me at all, Christina Centenera with her wool-blend blazer tied in the same manner sure does and suddenly i feel like i should accept this unspoken challenge myself. (only perhaps without the Birkenstocks for now.) to create a pleasing combination out of not-so pleasing pieces that most certainly did not make it to my wishlist then, but suddenly they make a presence, is such a great deal of self-cognition in terms of style that i absolutely recommend it to everyone.
for a long time i keep thinking, whether the, us, fashion bloggers are actually as much trendsetters as it is expected from them. there, you're a fashion blogger, go and share wisdom with the unacquainted ones.
well, there are two ways of looking at it. i don't necessarily feel the responsibility of the way people around me dress. it's their call. yes, i like to inspire. but not to teach. there are many ways and even places to learn the basics of dos and donts if you don't feel stable on your feet in combining garments. but i like to show on my style, that everything, i repeat, everything, is wearable. once it's combined carefully and with great amount of taste. in picking you shape, your material and your colour. and yes. it's always okay to make a mistake. there would be no fun if we didn't.
so what do you think? perhaps i would do the best if i would just throw this shirt away then? or did i accept the challenge well? your call.

opravdu?! takže kdy se to stane? kdy se něco, co zpočátku absolutně neskousnete stane něčím, co chcete taky vyzkoušet? kdy se z toho stane něco tak skvělého, že to obletí půlku (online) světa? pro mě se ošklivý kousek, který mě zpočátku absolutně odpuzuje, stane žádaným ve chvíli, kdy se mi zalíbí kombinace, ve které se ukáže. když vidím celý balíček najednou. je pravda, co řekla právě Jayne:
"Někdy vás móda dovede k zamyšlení, nebo možná vyvolá rozpaky. Vaše instinkty vám říkají, že to pro něco obdivujete, ale stejně si nejste jistí, co je vlastně vaše stanovisko. Pak vidíte street style fotku, která vám dokáže, že i ty nejdivočejší kousky se dají zakomponovat a stát se nositelnými. To jsou momenty, které miluji." - Jayne Min
je jednoduché nenávidět něco na mole. není to živé, reálné a neumíte si za tím představit konkrétní osobu. neukazuje to, jak by to nosili reální lidé. ale jakmile si tu stejnou věc oblékne člověk, kterého znáte (i kdyby jen virtuálně - v dnešní době je tak jednoduché sledovat každodenní život někoho cizího, když se všichni tolik obnažují), najednou se vám otevřou oči a vidíte, jak lze daný kousek nosit v normálním životě a jak ho lze zakomponovat do vlastního stylu. výzva přijata! takže zatímco tremp s voděvzdornou bundou uvázanou kolem pasu ve mně žádné pozitivní dojmy nevyvolá, Christina Centenera se sakem uvázaným ve stejném stylu určitě ano. a já mám najednou pocit, že je čas, abych tuto výzvu také přijala. (i když prozatím vynechám ty sandály.) vytvoření vkusné a hezky vypadající kombinace z kousků zdánlivě nevkusných a nepřitažlivých, které bych si dříve do skříně nikdy nevzala, to člověku dodá značnou dávku sebepoznání vlastního stylu.
už dlouho uvažuji o tom, jestli jsou, či jsme my, módní bloggeři skutečně takovými trendsettery, jací se od nás očekávají. tak, jsi módní blogger, běž a nauč lidi bez zájmu o módu jak se mají oblíkat.
jsou různé úhly pohledu. ale já nutně nepociťuji žádnou odpovědnost za to, jak se oblékají lidé kolem mě. i když jsem blogger. je to zkrátka jejich věc. ano, ráda budu  inspirovat. ale nejsem tu od toho, abych učila. na naučení se základních ano a ne v oblékání už existuje mnoho míst, knih i článků a jsou cesty, jak se to naučit, když si zrovna v kombinování moc nevěříte. ale já ráda na svém stylu ukazuji ne co je dobře, ale že všechno může být dobře. vše, a to opakuji, vše, může být nositelné. jakmile se to zkombinuje s notnou dávkou citu a vkusu.vkusu ve výběru svého střihu, svého materiálu a své barvy. a ano. je dobře občas šlápnout vedle. jinak by to nebyla vůbec zábava.
jaký na to máte názor vy? a co myslíte? měla bych přeci jen tu košili kolem pasu zahodit? nebo jsem výzvu přijala dobře? je to na vás.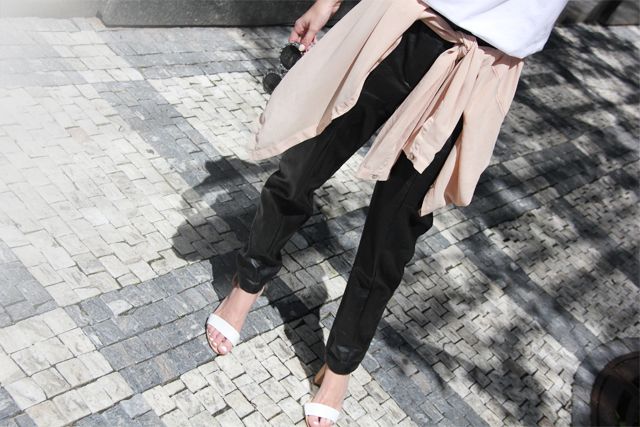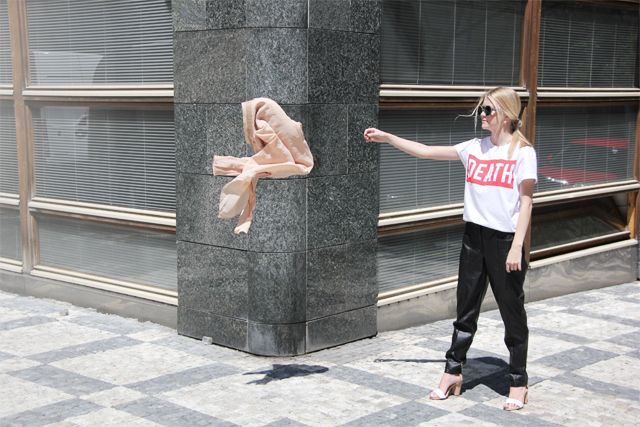 ASOS t-shirt | Sheinside shirt | Zara shoes | H&M leather pants | Escada sunnies