furious & motivated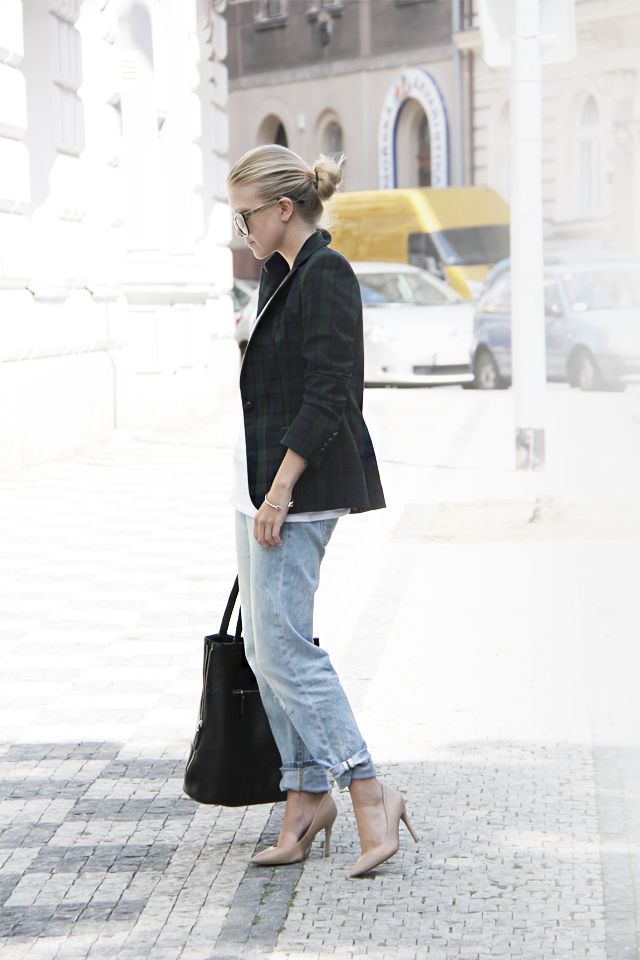 Wearing checkered blazer by Zara, boyfriend jeans by Zara, t-shirt by Balenciaga, cat eye sunnies by Topshop, jewelry by H&M and nude pumps from Mango. _

As you might notice by my expressions in these photos, there have been a few things bugging my mind lately. Mainly because it got pleasantly emptied and relaxed thanks to my holiday trips (I'll overload you with photos later, don't worry) only to come back to Prague and get totally confused and... disillusioned? There are always things you wouldn't expect and people you won't understand. PR manager of an luxurious-looking brand giving you an offer just to ignore your mails and calls month later after a prearranged meeting without no explanation. Or self "PR" techniques of a certain duo getting out of hands because everyone knows (small pond Prague, isn't it?) yet they won't admit it even to themselves. This kind of professionality gets me confused yet a little amused. Definitely not respected though. But luckily, we all have our own techniques. For me it will probably always be hard-work and (maybe a little too much) optimistic visions and dreams.


Jak jste si asi všimli, můj výraz na těchto fotkách není zrovna plný nadšení. Pár věcí mi poslední dobou zaměstnávalo hlavu. Hlavně proto, že i když jsem si jí během svého 5ti-týdenního prázdninování (fotkami vás brzy zahrnu, nebojte) krásně pročistila, jen co jsem se vrátila do Prahy mě místní situace zase naprosto rozhodila a sebrala iluze. vždy tu budou věci a lidi, které prostě nepochopíte. PR manažerka luxusně se tvářícího podniku, která vám pošle skvělou nabídku a dohodne si s vámi nadšeně schůzku (která se nakonec nekoná), jen aby o měsíc později bez vysvětlení nereagovala na maily a telefonáty. Nebo "self-PR" techniky jistého dua, které se trochu vymykají kontrole a všichni se tomu smějí (malý rybníček Praha, že?), protože nejsou schopné to přiznat ani samy sobě. Nad takovou profesionalitou mi rozum zůstává stát, ale také se trochu bavím. Žádný respekt to ve mě však nevyvolá. Naštěstí, každý máme nějakou tu svojí techniku. A já se rozhodla začít vše brát zase o stupínek vážněji a začít makat. (Možná až moc) optimistické vize a sny už mám.