somewhere in between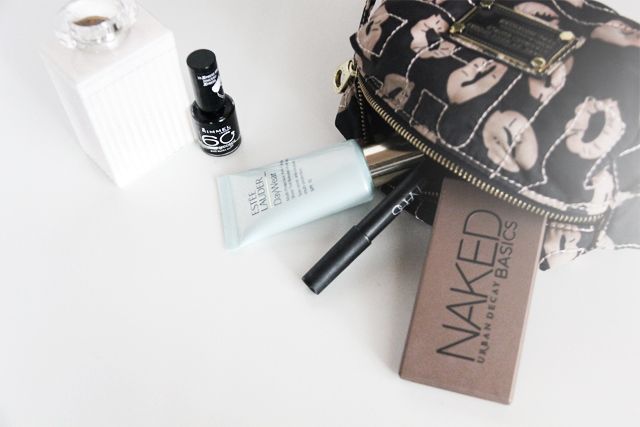 Chloé Perfumed Body Lotion; Rimmel 60 Second 1 Coat Nail Polish in Black out; Estée Lauder Daywear Multi-protection Anti-oxidant Sheer Tint Release Moisturizer; NARS Velvet Matte Lip Pencil in Bahama and Urban Decay Naked Basics Palette. _

As I am with my clothing, barefoot feet yet jacket on top, even with my beauty rituals I am somewhere in between at the moment. While my nails are getting autumny black with Rimmel, I am still convinced my skin needs to get hydrated from all the sun around and there's no place for heavy make-up when there is (disappearing) tan on my face. The Estée Lauder Daywear tint release moisturizer is a new found magic that hydrates, smells like fresh cucumbers and nicely tints and syncs your face colour. Also, my all time battle and trying to find the right colour or product for my lips has begun, as I convinced that naked eyes and coloured lips are hot haute for fall yet they don't look haute hot on me. Getting there slowly with NARS and natural colours seems like the best idea...


Stejně jako to mám s oblečením, s holýma nohama, ale s bundou, i s kosmetickými produkty jsem momentálně na půl cesty. Zatímco nehty mi jdou podzimně do černa s Rimmelem, jsem skálopevně přesvědčená, že moji pokožku potřebuji pořád přehnaně hydratovat, po tom všem sluníčku, a že pro hutný make-up tu rozhodně ještě není místo, když jsem v obličeji stále (trochu) opálená. Tato Estée Lauder Daywear zabarvující lehká emulze je nově nalezené kouzlo, které hydratuje, krásně svěže voní po okurkách a krásně sjednocuje barvu v obličeji. Také tradičně započala moje 'válka' a hledání toho správného produktu a barvy na moje rty, protože jsem přesvědčená, že nenápadné oči a výrazné rty jsou na podzim skvělé, jen nevypadají skvěle na mně. Zatím to tedy beru pomalu s NARSem a nenápadnými odstíny...