the ultimate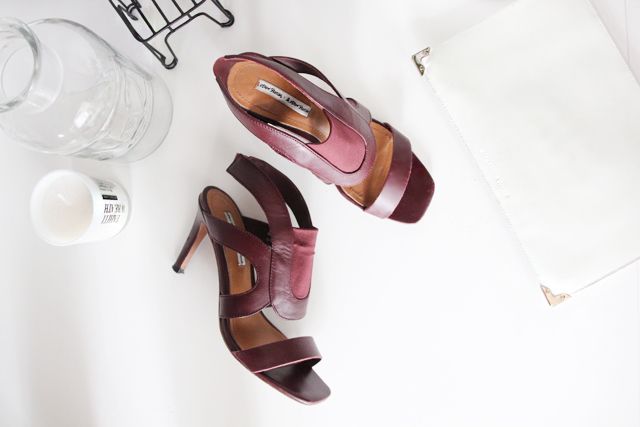 Sandals by & Other Stories; Prisma pouch by Alexander Wang; decorative Miniature chair by House Doctor, No. 2 vase by Hubsch and Tahiti Wreath candle by House Doctor (all via Nordicday.cz) _

I did score many many new additions to my closet making my heart jump over the summer, high end and not, but this pair over here is the one that deserves to be called the ultimate. Spotted at Milanese & Other stories store, it was pretty much obvious I wouldn't leave them there. They're burgundy, leather and Alaia-shaped handful of goodness. And I know this sounds like a total cliché and an excuse you usually make for your new buys, but they trully go with everything in my closet. Even a bright green palm tee, when it comes to that.
You will be seeing them a lot (in fact I've been pretty much wearing them all the time these 2 weeks) but just in case the temperature dropped drastically, I wanted them to have their little spot on the blog. They're pretty perfect, no?


Během léta mi do skříně i botníku přibylo hodně nových věcí, které mi dělají radost, drahé i ne, ale tenhle pár si zaslouží označení the ultimate. Spatřila jsem je v milánském & Other stories obchodě, a celkem hned mi bylo jasné, že je tam nenechám. Jsou vínové, kožené a tvarované trochu jako Alaia = kopec štěstí. A vím, že tohle zní jako naprosté klišé a každý si tím obvykle ospravedlňujeme svůj nákup, ale jsou naprosto ke všemu v mé skříni. Klidně i k zářivě zelenému tričku s palmičkami, když na to přijde.
Uvidíte je na mě asi ještě hodněkrát (vlastně je teď nosím skoro neustále), ale kdyby náhodou drasticky spadly teploty v příštích pár dnech, chtěla jsem, aby taky měly svoje místečko na blogu. Jsou skvělé, ne?