MBPFW / SIMPLE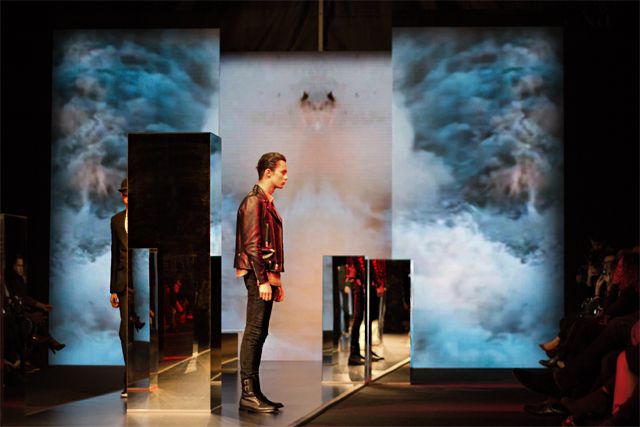 Ph/ Zuzana Drachovska _

I love when a fashion show has a certain vibe to it, united vision and something extra to the collection, that makes you remember the smashing atmosphere at that show all year long. Last year it was Jakub Polanka (he didn't disappoint this year either but more on that later). The show that SIMPLE conceptstore put on this year had exactly that. The line-up included designs of Victoria Beckham, Isabel Marant, Acne, Rick Owens, Balenciaga, Saint Laurent, Céline i.e. all of what their sortiment offers at the moment. Which we all might know by now but to be honest, I don't mind watching these gorgeous pieces in motion over and over again, e.g. the Céline Edge, which might be the biggest obsession of mine right now. Especially on a background of a dramatic projection with boiling lava and amazing music in hand with it, both by Lukas Hofmann of Saliva blog. All of that in between an installation of mirror panels, reflecting everything and everyone form all the different angles. Loved it!


Zbožňuji, když má módní přehlídka co ukázat a kromě skvělé kolekce předvede i něco navíc, nabitou atmosféru, která vás chtě-nechtě vtáhne a vy si jí pak pamatujete celý rok. Minulý ročník to pro mě byla přehlídka Jakuba Polanky (který však nezklamal ani letos, o tom více již brzy), jejíž hudební doprovod si pamatuji doteď. Módní přehlídka obchodu SIMPLE conceptstore měla přesně to něco, to extra nabití. Předvedeny byly kousky z kolekce Victoria Beckham, Isabel Marant, Acne, Rick Owens, Balenciaga, Saint Laurent či Céline, a ačkoliv to tedy pro většinu návštěvníků nemuselo být nic nového, osobně bych se na ty krásné kousky luxusních módních domů mohla koukat stále dokola a dokola. Zejména krásná kabelka Edge od Céline, pohupující se na lokti sem a tam, mi teď nedává spát. Obzvlášť, když byla podtrhnuta dramatickým pozadím projekce plné vlévající se lávy do moře a skvělou hudbou. Obojí od Lukáše Hoffmana. To vše doplněné funkční zrcadlovou instalací, která vám dovolila sledovat několik věcí i lidí najednou. Jednoduše skvělé!