on ordering online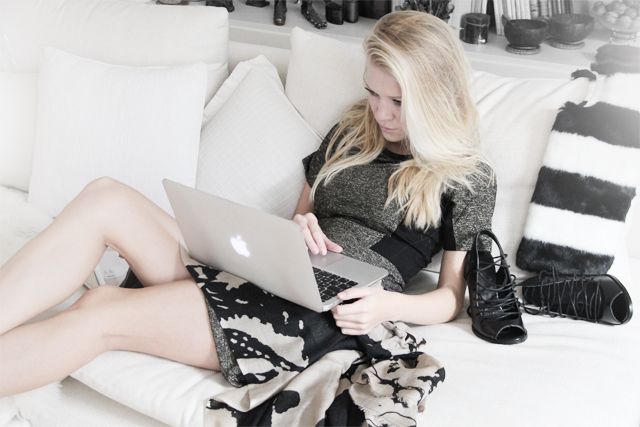 Wearing dress by French Connection (via GIRISSIMA.com), tabbard collar by ASOS, scarf by BeckSöndergaard (via GIRISSIMA.com) and lace-up sandals by ASOS. _

So even though I might have been a newbie at ordering online a year ago, the whole thing has taken a huge spin since and I keep on putting gorgeous pieces into those virtual carts, which is kind of a nightmare sometimes, really (especially the part of me going to the post constantly, because the courriers never seem to catch me at home). However, I must say, I enjoy online shopping much more than the normal one by now. Why? Well, basically, you can browse all you want and won't be bumping into any people, tripping any hangers over and still have the full 3D image of the product. I am especially a huge fan of the video promotion some e-shops have! Also, it's the best thing to do before you go to bed and need to calm your brain down a little (Nika would agree) or if you're at one of those super boring lectures (which seem to be 99% of them now). The main reason I love all this virtual shopping is because I shop much more thoughtfully and actually spend less (if you think CPW-wise). My wishlists, saved items lists, dream boxes etc. keep on getting bigger and bigger, until I am 100% certain I really need the piece in my life. Whereas in a real shop, I feel like once I touch the piece, I have to get it, we have a connection and if I'd leave it behind, I would never ever find it again. And even though I am no magician like Eva, who keeps finding ah-mazing deals on eBay, I seem to bump into more great deals and sales online, than in the real life. And I am not pressured by them in anyway, because again, no people. So how about you, what do you prefer? Online or in real shop? Or otherwise - where do you spend more?


I když jsem asi tak před rokem byla v online nakupování naprostý nováček (a doteď mě občas vyleké poštovné nebo hrozba cla), celá tahle záliba docela nabrala na obrátkách a ve virtuálním košíku mi stále častěji něco přistává. Což je trochu noční můra, hlavně kvůli těm neustálým návštěvám pošty (pošťáci a kurýři se se mnou, zdá se, naprosto míjejí). i přesto ale musím říct, že online nákupy mě baví mnohem víc, než ty v kamenných obchodech. Proč? Protože vybírat si můžete v klídku domova, nebudete vrážet do žádných lidí, zasekávat se o ramínka a stejně si vše můžete v klidu prohlédnout ze všech stran a občas i v pohybu, na videu. Zároveň je to ta nejuklidňující věc před spaním, kdy už potřebujete vypustit, ale mozek stejně ještě spát nechce (Nika potvrdí) a zároveň naplňující činnost na zcela zbytečně přednášce (což je momentálně asi tak 99% z nich). Hlavním důvodem, proč ale celé tyhle virtuální nakupovací výlety miluju, je to, že nakupuji víc promyšleně a vlastně i míň utrácím (pokud se na to podíváme z hlediska cost per wear teorie). Moje wishlisty, saved items seznamy, dream boxy atd. na velikosti sice nabývají, ale zároveň si nikdy neobjednávám nic, než když si jsem 100% jistá, že to potřebuji. Zatímco v kamenném obchodě mám tendenci koupit všechno, čeho se dotknu, protože mám pocit, že už máme jakýsi vztah a když to tam nechám, do druhého dne mi to někdo vyfoukne. A i když ještě nejsem takový kouzelník jako Eva, která na eBayi stále nachází super úlovky, online na skvělé nabídky a slevy narážím tak nějak častěji, než v realitě. A nijak mě tam nestresují, protože, opět, nejsou tam žádní lidé. Jak to tedy máte vy? Online nebo kamenný obchod? Nebo jinak - kde utrácíte víc?