on my mind / 1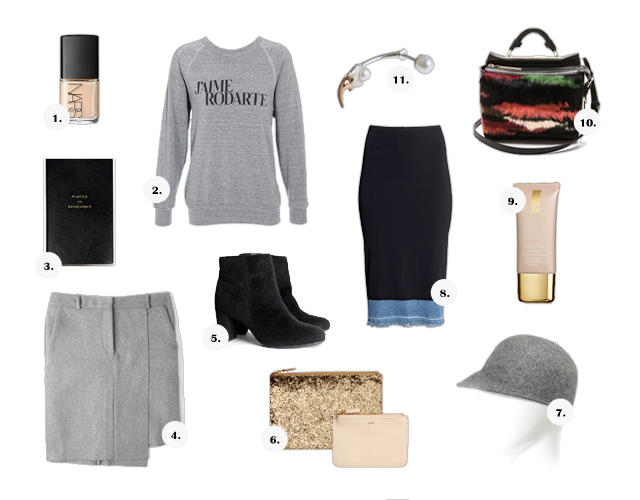 01. Nailpolish in 'Candy darling' by NARS, 02. 'Love Hate' sweatshirt by Rodarte, 03. 'Places to Remember' textured leather notebook by Smytshon, 04. wool panelled skirt by Acne, 05. ankle boots by H&M, 06. pouch duo by H&M, 07. felt cap by Zara, 08. pencil skirt by H&M, 09. 'Double Wear Light' make-up by Estée Lauder, 10. 'Ryder' satchel by 3.1 Phillip Lim and pearl 'Blacktip' earrings by Antipearle. _
First of all - what is it with me and fur anything lately? E.g. the boots, the bag... (And I forced myself to erase a sweater with fur insert from the selection). Are those instincts calling?
Anyhow, grey rules my world at the moment, I secretly keep pretending it's still skirts + bare legs weather and the pearl earring boom has gotten me straight-away, no shame.
Tak zaprvé, co je to se mnou a s chlupatými věcmi? Vizte: kozačky, kabelka... (A to jsem se ještě donutila odmazat svetr s kožešinovým vkladem). Jsou to snad instinkty?
Každopádně, šedivá momentálně hýbe mým světem, pořád tajně předstírám, že je teplo na sukni a holé nohy a současný boom perličkových náušnic si mě získal hned na jeho počátku. A nestydím se za to.