eye pencils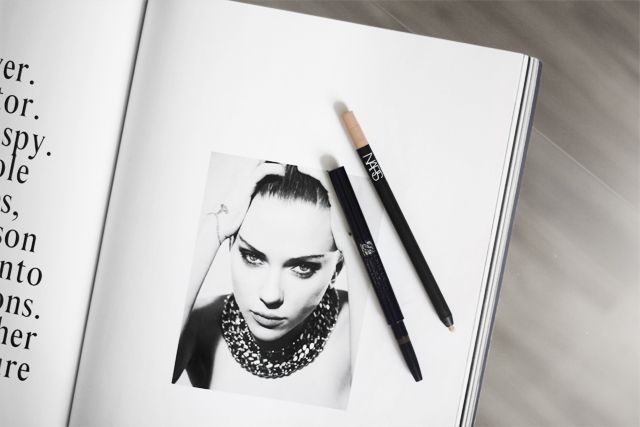 Ph/ by me
01. Eyebrow pencil in 'Soft blonde' by Estée Lauder, 02. 'Larger than life' long-wear eyeliner in 'Rue Bonaparte' by NARS _
I remember my first make-up attempts, which - and I am sure that is very common between young girls - were basically framing my eyes pinch black with a kajal pencil (in the subway while beeing late to school). Luckily, that option ended when I had to get contact lenses. Luckily, because thanks to that I realized there are different ways to make your eyes pop without having to look like a panda. And instead of that black eyeliner I now have two other magic ones I don't make a step without anymore.
Pamatuji si na takové ty začátky s kosmetikou, a - tak jak to asi u většiny mladých holek bývá - mojí představou o perfektním make-upu byly černo-černě orámované oči kajalovou tužkou (poslepu v metru, když jsem nestíhala školu). Naštěstí tato možnost padla v momentě, kdy jsem dostala kontaktní čočky. Naštěstí, protože díky tomu jsem si uvědomila, že mít zvárazněné oči jde i jinak, než vypadat jako panda. A místo té černé tužky jsem si našla dvě jiné úžasné náhradnice, bez kterých už neudělám ani krok.
01. Estée Lauder eyebrow pencil in 'Soft blonde'
My eyebrows have been either a ginger disaster or too dark to handle before finding this amazing shade for non-platinum blondes. The best, really. Quick and easy application is a huge plus!
Obočí jsem musela mít buď zrzavé jako pomeranč nebo absurdně tmavé, než jsem našla tenhle skvělý odstín, který budou milovat všechny přirozené blondýnky. Je opravdu nejlepší. A to, že se tužka tak snadno a rychle nanáší i dlouho vydrží (stíny i gel v jednom!) je další obří plus!
02. NARS eyeliner in 'Rue Bonaparte'
Waking up is one thing, brightening up your eyes to look so is a whole different story. Especially if the "dabbing a shimmery eyeshadow into your eye's inner corner" simply doesn't work for a contact lens user. Or is it just me getting eyeshadow falling and irritating my eyes constantly? Not with this one, that's for sure. Longwear is trully longwear with NARS and 'Rue Bonaparte' is perfect for that popping effect.
Vyspat se dorůžova je jedna věc, ale přijmout i oči, aby tak vypadaly, to je věc druhá. Obzvlášť, když je pro mě jako čočkaře trik "ďobnout si třpytivý stín do vnitřního koutku oka" naprosto nepoužitelný. Nebo jsem jediná, komu to všechno pak nepříjemně padá do oka? S tužkou takový problém není. S longwear NARS opravdu nekecá a odstín 'Rue Bonaparte' je perfektní pro to správné prosvětlení.