in a rush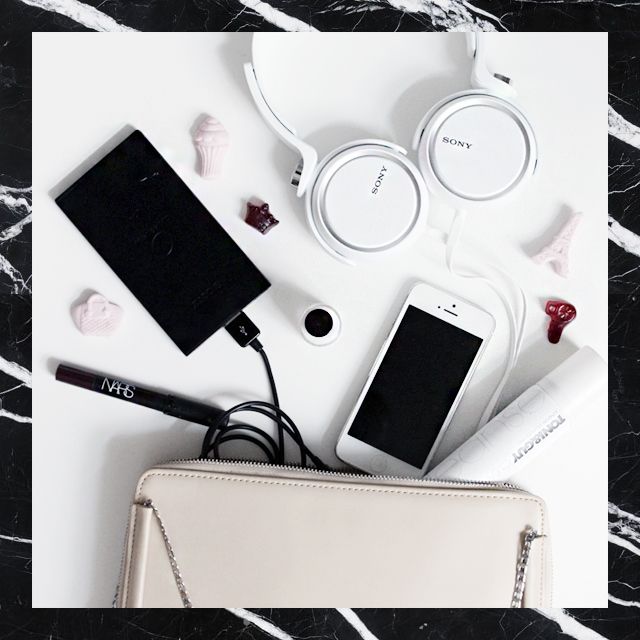 Ph/ by me
Nude clutch by Zara, dry shampoo by Toni&Guy, iPhone by Apple, 'XB400' headphones by Sony, 'Mixle Pixle' candies by JoJo, '60 seconds' nailpolish by Rimmel, portable charger by Sony and 'Velvet Matte' lip pencil by Nars. _
Advertorial
Being in that kind of weird rush, energic and exhaustive at the same time, is not far from my reality these days. And even though I enjoy it as much as I can, there are specific things I wouldn't do without. These little helpers are very recommended to anyone, who wants their rushed life a little easier.
Jsem teď (nebo vlastně vždycky?) v takovém tom zvláštně dobíjejcím i vyčerpávajícím zápřahu najednou. A i když si to užívám, jsou věci, bez kterých bych byla ztracená a ještě víc náladová. Tyhle malé pomocníčky doporučuji každému, co si rád ulehčí.
Dry shampoo
... is the most genius idea ever, especially when in a travel size like this Toni&Guy dry shampoo. My hair is getting overdosed with this lately, instant volume, let me tell ya.
... je nejgeniálnější nápad, obzvlášť, když se prodává i v cestovní verzi, jako třeba tenhle můj oblíbený z Toni&Guy. Moje vlasy teď dostávají docela nálož, ale konečně se jim daří udržet alespoň nějaký objem.
Big headphones
You know those moments of immediate need for concentration without all the buzz around in you office / Starbucks? I am the worst at recognizing what song is playing in a public space, but oh boy, when it comes to someone else's conversation, I can't seem to detach. These Sony XB400 work like magic for these moments!
Znáte ty chvíle, kdy potřebujete okamžitě něco smysluplného napsat, ale v kanceláři / ve Starbucksu kolem vás je takový ruch, že se prostě nedá koncentrovat? Naprosto se nezvládám zaposlouchat do písniček hrajících na veřejných místech, ale jakmile si někdo povídá o jejich novém štěňátku, dost těžko se mi odpojuje. Tyhle Sony XB400 zázraky fungují jako... no, zázrak.
Smartphone
Gone are the days when I used to write everything down in my Moleskine and sent emails directly from the computer. Totally. Screw Instagram, Pinterest or Shazam. Google calendar, Gmail and Notes are the tools I wouldn't function without. Oh, and Pocket. An amazing app that let's you save online articles or websites, so that you can get back to them when you have time. You know... that one weekend in a month.
Pryč jsou dny, kdy jsem si všechno pečlivě psala do Moleskinu a emaily posílala jedině z počítače. Fakt. Klidně zrušte Instagram, Pinterest nebo Shazam, ale bez Google kalendáře, Gmailu a Poznámek bych momentálně opravdu nefungovala. Jo a Pocket! Skvělé aplikace, která vám dovolí uložit si různé online články nebo weby tak, aby jste se k nim jednoduše dostali později, až budete mít čas. Jestli někdy.
Sugar!
I must be the last person in Europe, who still hasn't tried the sugar & gluten free diet and yet I feel just fine. So far sugar has always been exactly the boost I needed (if only psychological - you don't want to meet Adela low on sugar, no no) so there are always candies somewhere in my bag. At the moment, funky and cute Mixle Pixle are my favourites.
Jsem asi poslední člověk v Evropě co nezkusil a ani nezkouší dietu bez cukru & lepku, ale ani mě to neláká. Cukr mě skvěle dobíjí (i kdyby jen psychicky - mou náladovou maličkost bez dávky cukru opravdu potkat nechcete, ne ne), takže se mi v kabelce vždycky válí nějaké sladkůstky. Momentálně u mě vedou roztomilé žužu Mixle Pixle.
Portable charger
Not a single day without it. Since I use my iPhone a lot, I also need to use a portable charger a lot. This one by Sony fit's in just about any bag or clutch and let's me fully recharge three times. So not only for busy days but very recommended for a festival too!
Bez té ani ránu. Protože iPhone používám opravdu dost, musím používat dost i přenosnou nabíječku. Tahle je od Sony, vejde se prakticky do jakékoliv kabelky či psaníčka, a nabíjet s ní můžu třikrát dokola. Takže je naprosto perfektní i na festival!
Express nailpolish
Busy days are almost a synonym for a bad manicure with me. Unless I do my my nails just about anywhere, which I do ever since I started using these Rimmel 60 seconds nail polishes. Very dense, very easy to apply, very fast to dry. Win win win!
Hektické dny jsou skoro synonymem pro špatnou manikůru. Pokud si nehty příležitostně nedolakovávám všude možně, což dělám často od doby, co jsem si pořídila Rimmel 60 seconds laky. Jsou tužší, nalakovat je zvládnete i ve vzduchu (a skoro si troufnu říct, že za běhu) a usychají do několika sekund. Výhra!
Lip pencil
It took me 22 years to start abandoning eye-makeup step by step and use a much quicker fix up in the morning - a lip pencil. So far it's only this lip pencil by Nars in 'Train Bleu' shade but I am sure I'll walk my way through more colours eventually.
Trvalo mi to 22 let, než jsem se občas naučila vykašlat se na oči a ráno se upravit mnohem rychleji - díky tužce na rty. Zatím to je jen tato tužka na rty od Nars v odstínu 'Train Bleu', ale jsem si jistá, že se časem propracuji k více barvičkám.