style scout / Ema
Living in Prague
Assistant to CEO, MBPFW
Ph/ by me
_
It doesn't have to be a person with a close style to mine, to inspire me. It's the details, the unique approach and the creativity that counts. I'd like you to meet my friend Ema. Get inspired. And perhaps motivated.
If I ever thought I am a fast learner, Ema is the tripple times faster turbo, who carries all the details on Czech fashion scene you'd secretly like to know about and already this young has a career vision one could be jealous of. She's ambitious, active and a true fashionista. Something you might see reflecting in her closet full of statement, quirky pieces. Enjoy!
Nemusí to být člověk s podobným stylem, jako mám já, abych se nechala inspirovat. Je to v detailech, unikátním přístupu k oblékání a v kreativitě. Proto bych vám chtěla představit Emu. Nechte se inspirovat. A možná i motivovat.
Jestli jsem si já někdy připadala jako flexibilní člověk, co se rychle učí, Ema je v porovnání třikrát rychlejší turbo nadšenec, který ví o české módní scéně všechna tajemství, která chcete vědět, a už takhle mladá má nakopnutou kariéru tak, že by jí to leckdo záviděl. Je ambiciózní a neustále v pohybu. To reflektuje i její eklektický šatník plný těch nejvýraznějších kousků. Nechte se unést!
 
"My style? It's a mess full of statement pieces.
It's just the way I combine them that changes."
On the left: Bomber jacket by Odivi, custom made tank top, striped pants by Zara. On the right: Shoes by & Other stories, painting by Albín Brunovský, vintage bracelet.
EN: When did you decide to start working in fashion? Has it been the plan all along or did it come naturally?
The first thought of it occurred all of sudden when I was like 13 years old. I was studying gymnasium back then but wasn't particularly a good student. I seeked rebellion, started to dye my hair all these crazy colours like pink or green, or started wearing all these weird combinations like second hand Pokemon t-shirt with a pink DIY tutu skirt and such. From that I decided I wanted to get creative and study fashion design, so I applied for the secondary school of fashion in Prague and I got in. However, I soon realised, that I have no patience for designing or any kind of crafts. Instead, I started writing about fashion and then also talking about it in Modeschau. At this moment, I work as an editor for BLUE PAPER magazine and my passion for Czech designer and Czech fashion generally grows with my position as an assistant to CEO of MBPFW, Lukas Loskot. (See Ema's past articles here.)
CZ: Kdy jsi se rozhodla pro práci v módě? Přišlo to postupně samo nebo jsi to odjakživa věděla?
První pomyšlení na práci v módě u mě přišlo docela znenadání, když mi bylo asi 13. Byla jsem tehdy na gymnáziu a rozhodně jsem nebyla žádný vzorný student. Chtěla jsem vybočovat a začala jsem si všemožně barvit na hlavu, na křiklavě růžovo, na zeleno..., nebo jsem třeba oblékala šílené kombinace typu Pokemon tričko s vlastně vyrobenou tutu sukní a podobně. Tehdy jsem se rozhodla, že bych chtěla studovat návrhářství. Zkusila jsem Střední průmyslovou školu oděvní v Holešovicích a dostala se. Brzo jsem si však uvědomila, že nemám na navrhování a vůbec jakékoliv ruční práce dostatek trpělivosti. Místo toho jsem začala o módě psát a později i mluvit v Modeschau. Momentálně píšu už jen pro BLUE PAPER, kde funguji jako editor, a svoje nadšení pro české návrháře a českou módu obecně si vybíjím jako asistentka ředitele MBPFW, Lukáše Loskota. (Výběr článků Emy můžete najít zde.)
Leather top by Martina Špetlová.
EN: What's your biggest nowaday icon in terms of dressing?
Absolutely Leandra Medine!
CZ: Kdo je pro tebe novodobá ikona v oblékání?
Jednoznačně Leandra Medine!
EN: How would you describe your style?
Well, it's huge mess. What I love is a good statement piece, by which I can get inspired. I have lots of those and I switch between two different modes of combining them: sometimes it's one statement piece combined with some basics, other times I feel like lot of statement pieces together.
CZ: Jak bys krátce popsala svůj styl?
Můj styl je jeden velký zmatek. Miluji výrazný kousek, který mě sám o sobě může inspirovat. A mám jich hodně! Pak už jde jen o momentální náladu na jejich kombinování: občas se držím při jednom ve spojení s něčím jednoduchým, občas mám chuť vzít si na sebe všechny najednou.
On the left: Skirt by Sadie Williams for & Other Stories, second-hand sweater, sneakers by Reebok. On the right: Vintage velvet handbag, snake clutch by Topshop, waist bag by Odivi.
EN: What gets you so attracted to Czech designers? Is it your personal relationships, your style preferences or the quality of their clothing?
I love Czech designers and one of the many reasons why is actually their diversity. I always know where to go when I need a particular piece. When I look for an unusual silk dress, I go to Jindra Jansova. When I need easy, comfy and basic with a twist piece, I go to Iva Burkertova from Odivi. When I crave fashion forward statement outfit, I go to LaFormela. And when I need a wearable piece of art, I go to Petra Ptackova. But I also love all these designers for their personalities and I consider them as my friends, that's true. However there is a lot of designers I am not so close with, of course, and I would still kill for their clothes. Let's take Pavel Berky's last collection for example. That is definitely my next buy.
CZ: Co tě tolik přitahuje na českých návrhářích? Jsou pro tebe směrodatné vztahy s nimi, rozhoduje tvůj styl nebo dáváš hlavně na kvalitu?
České návrháře miluji a jedním z důvodů je vlastně ta rozmanitost blízko pohromadě. Vždy vím, kam zajít, když hledám něco konkrétního. Když hledám neobvyklé hedvábné šaty, jdu za Jindrou Jansovou. Když hledám něco jednoduchého se zajímavým detailem, jdu za Ivou Burkertovou z Odivi. Když hledám něco trendy a výrazného, jdu za triem LaFormela. A pokud chci obléct výtvarné dílo, jdu za Péťou Ptáčkovou. Je pravda, že všechny tyto návrháře zbožňuji i pro jejich osobnost a považuji je za své přátele. Ale toužím i po spoustě kolekcí, u kterých se s návrhářem neznám zcela důvěrně. Třeba taková poslední kolekce Pavla Berkyho. To bude rozhodně můj další nákup.
From top left: Oxblood ankle boots by & Other Stories, blue ankle boots and black sandals by Asos, leather pumps by & Other stories, pattern sandals by Preen for Aldo, sneaker by Reebok, black ankle boots by Topshop.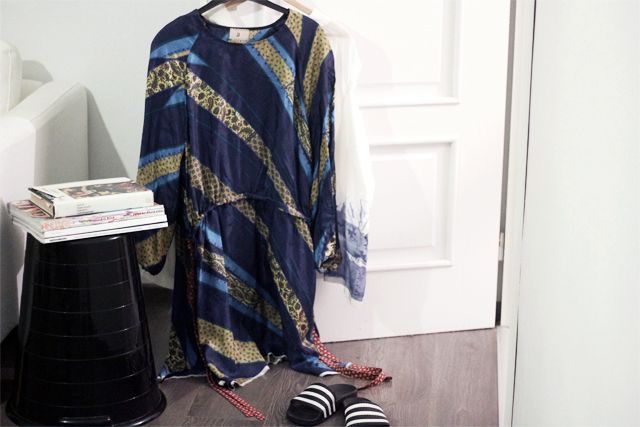 Silk dress by Jindra Jansová, silk top by Petra Ptáčková, pool slides by Adidas.
EN: How does your style correspond with you living?
They have one thing in common - my indecisiveness. I feel like I've been evolving a lot lately, both as a person and style-wise. But I still feel that my style or maybe even a taste is not really distinguished, I haven't sorted it all out yet and to be honest I don't really believe I ever will. But what never changes is my need to be surrounded by books and art. My grandfather was an art collector, he was buying art from his friends, now famous artists of the 60s up to 80s, with my grandmother helping him build the collection by buying random paintings she fell in love with. Most of the collection belongs to my dad now but I also own a few of those myself. For example the Bohdan Kopecky's drawing, which I've got from my grandmother and there is a beautiful story behind it. As there there always is behind a picture, anyway. I really love art and if I didn't work in fashion, it would be my first choice.
CZ: Jak koresponduje tvůj styl s tvým bydlením?
Mají jednu věc společnou - moji nerozhodnost. Mám pocit, že jsem se v poslední době hodně posunula ve vývoji své osobnosti, a i z hlediska stylu. Nicméně mám pocit, že přeci jenom můj styl ještě není zcela distingovaný, zatím ho neumím kategorizovat a abych pravdu řekla, asi to tak ani nikdy nebude. Co však zůstává, je moje potřeba obklopovat se knížkami a uměním. Můj děda byl sběratelem umění a často nakupoval díla od jeho kamarádů, kteří jsou nyní slavnými malíři z 60. až 80. let. Společně s babičkou, která mu také pomáhala, a nakupovala vše, do čeho se zamilovala. Většina sbírky je teď tedy tátova, nicméně pár kousků už vlastním i sama. Třeba kresba Bohdana Kopeckého, kterou mi babička dala a váže se k ní nádherný osobní příběh. Tak to je vlastně s obrazy vždy. Miluji umění i příběhy okolo něj, a kdybych nepracovala v módě, určitě by to byla moje první volba.
EN: What are the favourites in your closet at the moment?
Odivi satin bomber jacket/top, Martina Spetlova leather top, Petra Ptackova crinkle pantsuit, Monki velvet sweatpants and my new & other stories oxblood ankle boots.
CZ: Tvoji momentální favorité v šatníku?
Odivi saténová bomber bundička/top, kožený top od Martiny Špetlové, lněný set od Klekko, sametové tepláky Monki a taky moje nové & other stories kotníčkové kozačky.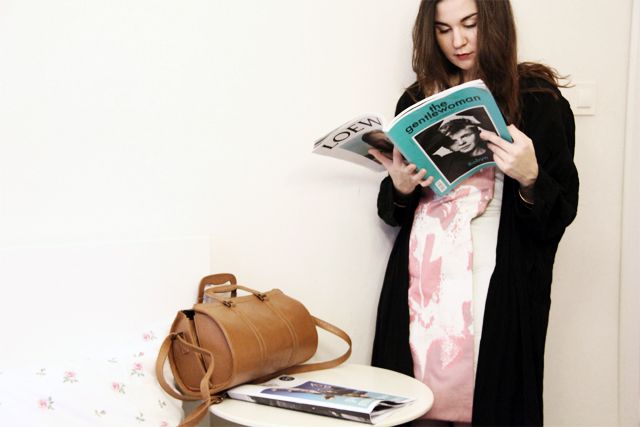 Dress by LaFormela, handbag and kimono by Asos.
EN: What is your favourite Czech boutique?
I fell in love with Kurator, most possibly the tiniest shop in the world. I mean, they change the installation every few months, make their own soundtracks to it... It's a 360° concept and that's what I truly admire. Job well done.
CZ: Který český obchod máš nejraději?
Zamilovala jsem se do butiku Kurator, pravděpodobně toho nejmenšího obchůdku na světě. Mění instalaci každých několik měsíců, mají vlastní soundtrack... Je to skvělý 360° koncept a naprosto jej obdivuji. Perfektně odvedená práce.
Vintage handbag, second-hand mannequin.
EN: Do you collect anything?
I used to collect shoes but I am a little bit over it now. I'd say right now I collect Czech designers. But I still have a hell lot of more shoes.
CZ: Sbíráš něco?
Dříve jsem sbírala boty, ale už mě to přešlo. Řekla bych, že teď sbírám české designerské kousky. Ale pořád mám mnohem mnohem víc bot.
EN: Does the nowadays normcore wave influence you in any way? Are everlasting basics something you long for or do you prefer statement pieces?
I'd love it to influence me but sadly I am an old magpie. But when it comes to basics I've sure reassessed my approach to them lately. I adore the new project called Local Icons, which actually promotes old Czech clothing factories producing fresh stuff like basic t-shirts, turtlenecks, clutches or even shoes. There are a few redesigns made by emerging Czech designers coming up soon and I really can't wait to see (and shop) it all!
CZ: Ovlivňuje tě nějak současná vlna normcore? Máš raději základní kousky nebo ty výrazné, co zaujmou pozornost?
Byla bych hrozně ráda, kdyby mě normocore vlna taky pohltila, ale bohužel jsem stále stejná straka sběratel. Nicméně jakmile jde o základní kousky, rozhodně jsem k nim v posledních pár měsících změnila přístup. Nadchl mě například nový projekt Local Icons, který pomáhá propagovat staré české oděvní fabriky pomocí tvorby nových jednoduchých kousků jako jsou trička, roláky, psaníčka nebo dokonce tenisky. Brzy vyjde několik redesignů ve spolupráci s mladými vycházejícími návrháři a už se nemůžu dočkat, až je všechny uvidím (a skoupím)!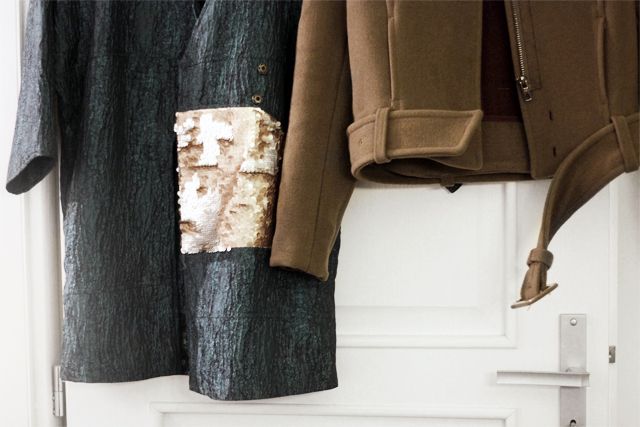 Crinkle jacket by Petra Ptáčková, olive jacket by H&M.
EN: Is there a particular product you know you will buy as an investment one day, but feel too young for now?
Of course! All these designer leather handbags and a lot of Nicholas Kirkwood shoes. And at least one Mary Katrantzou dress, just to hang it in the middle of the room so I could watch it all day long, instead of watching the TV. But right now I'll keep investing in Czech fashion and traveling.
CZ: Existuje nějaký produkt, do kterého jednou určitě chceš investovat, ale v tuto chvíli jsi do něj ještě "nedorostla"?
Samozřejmě! Všechny ty designerské ikonické kožené kabelky a také hodně Nicholas Kirkwood botiček. A alespoň jedny šaty od Mary Katrantzou, abych si je mohla pověsit uprostřed pokoje a koukat na ně celý den místo televize. Ale v tuhle chvíli chci investovat spíše do české módy a cestování.