DIY / add some fuzz on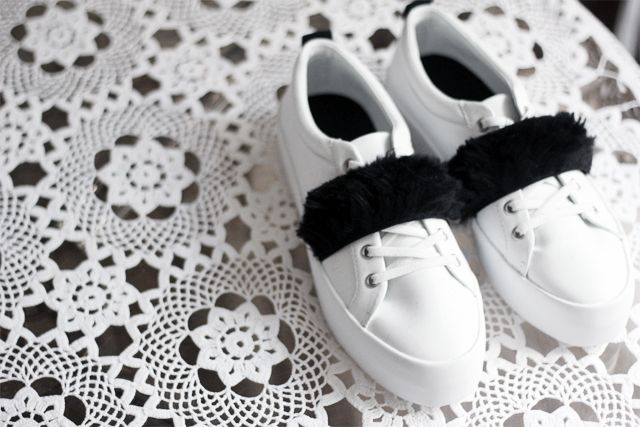 High-sole 'Slogan' sneakers by Zara, DIY detachable fluffy straps.
Ph/ by me _
I have tons of intriguing DIYs planned in my head but the ones I ever actually get to are the ones that:
a) take up about 5 mins, including the mess clean-up;
b) take up only the things you have at home right away;
c) include cutting something.
Which is precisely what this DIY is. Easiest ever. I cut out 2 fluffy straps out of the H&M cushion cover I had, glued bobby pins from the back to the ends of the straps and... there you go! Detachable fuzz straps for your sneakers to love and your boyfriend to hate are born! I had luck that the sneakers I got already have a rubber strap on but if you have an old pair of sneakers you're not afraid to sew in, go ahead, get a rubber band and attach them yourself. Easiest ever.
V hlavě mám plány na nekonečně množství propracovaných DIY projektů, ale ve skutečnosti vždy uskutečním jen ty, co splňují, že:
a) nezaberou více jak 5 minut, včetně úklidu paseky;
b) k nim potřebujete jen to, co lehce najdete doma;
c) obsahují minimálně jedno střihnutí.
Což tohle DIY splňuje. Easiest ever. V podstatě jsem vystřihla 2 chlupaté pruhy z toho H&M povlaku, co jsem měla, zespod k nim přilepila pinetky a... bylo! Odepínací chlupaté ozdoby na vaše tenisky, které budete milovat a váš přítel nenávidět, jsou na světě. Moje tenisky už na sobě shodou okolností měly gumu, ke které se ozdoby dají lehce připnout, ale pokud takové nevlastníte, najděte si nějaký starší pár, kupte v galanterii pruh gumy a jednoduše jej přišijte. Easiest ever.