NYFW / Hood by Air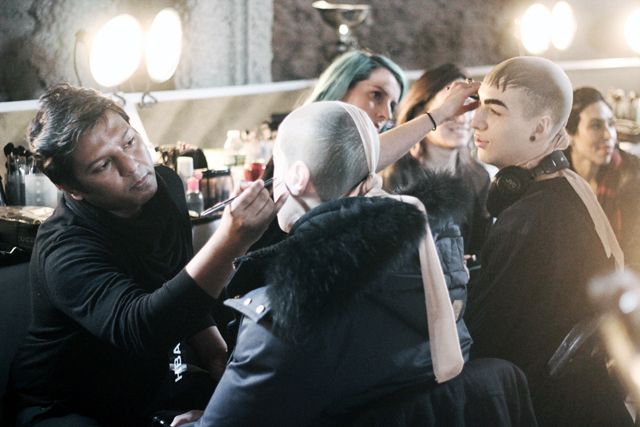 MAC cosmetics and Bumble and bumble. for Hood by Air AW15
Ph/ by me _
I didn't expect any different for HBA than to bring it's novity and amaze in it's provocative freakishness. Yet, it was as refreshing as ever to finally see something different from all the very fresh natural faces and just beautiful wind-swept hair that have been an on-going trend on this year's runways, apparently.
Set in the underground of Wall street, on an early Sunday morning as cold as -18°C (I died a little just running across the street), Inge Grognard and her MAC team created a neuter, fierce and almost hybrid looking army to go down the runway. Referencing the prison theme and it's uniformity by putting nude stockings on top of each model's head, yet showing it's congregation manner by creating various three-dimensional looks on top of it. Basically like forming a new face on top of the old one, using coffee eye pencil to make emphasized, sharp eyebrows and defining the features by drawing outlines and sideburns then and there. Overall texture got supported by Amy Farid's slicked down hair, finger waves and fringe.
As for the AW15 collection, it showed - as usual for Shayne Oliver - the aesthetic of "neither this nor that". Playing with gender roles, blurring the limits in between and creating a new set of, rather androgynous, rules. The models wore polo and normal T-shirts transformed into dresses with dropped down lapels, plissé skirts and flowing plissé pants together with puffer jackets, massive lacquered boots or huge fur coats with huge "HBA" sign across them. Just like this, not only destroying the borderlines between feminine and masculine but also diminishing the contrasts between high end and street wear which seems to be the essence of what the future holds in terms of clothing. Murderous collection. Literally.
Nečekala jsem nic jiného, než že mě HBA svojí originalitou, provokací a abnormalitou zase překvapí. I přesto bylo osvěžující konečně vidět něco jiného, než úžasně svěží přirozený make-up a krásné, lehce rozcuchané, vlasy, což bylo téměř to jediné, co se letos na přehlídkách zatím dalo vidět.
Dvě patra pod bankou na Wall Street, v neděli brzy ráno, kdy venku vše zamrzalo při -18 °C (a i já trochu poumřela jen při přebíhání ulice), vytvářela Inge Grognard a její MAC tým v zákulisí takřka bezpohlavní, děsivou a hybridní armádu. Inspirace vězením a jeho uniformitou byla zřejmá z punčoch přes hlavu všech modelů a modelek, tak trochu skrývajících a sjednocujích jejich profil. Zároveň byl však kladen důraz na trojrozměrnost a make-up artisti v podstatě tvořili nový obličej na ten starý. Pomocí kávové tužky na oči, a sem tam za použití fixky, vytvářeli na obličeji výrazné, ostré obočí ve spojení s umělými kotletami či lícními kostmi. Celková textura make-upu byla podpořena vlasovým stylingem podle Amy Farid - uhlazené vlasy, umělé vlny či patky rozdělená na dvě části dotvořila finální vzhled.
Pokud jde o kolekci, hrála hlavní roli - jak už to u Shayne Olivera bývá - estetika alá "ani to, ani to". Hra s genderovými rolemi, stírání hranic mezi nimi a v zásadě tvorba nových, značně androgynních, pravidel oblékání. Modelové na sobě měli například polo trička, transformovaná do šatů pomocí dlouhých závojů, skládané sukně i vlající, široké kalhoty spolu s péřovkami, kabáty s průstřihy na ramenou i v oblasti dekoltu, masivní lakované kozačky či například obrovské kožichy s velkým "HBA" nápisem. Stejně jako hranice mezi ženským a mužským světem, tedy Hood by Air stírá rozdíly mezi high-end a street wear módou, a přidává se tak k průkopníkům toho, co se zdá být budoucností v oblékaní. Zkrátka vražedná kolekce. Doslova.