read / 1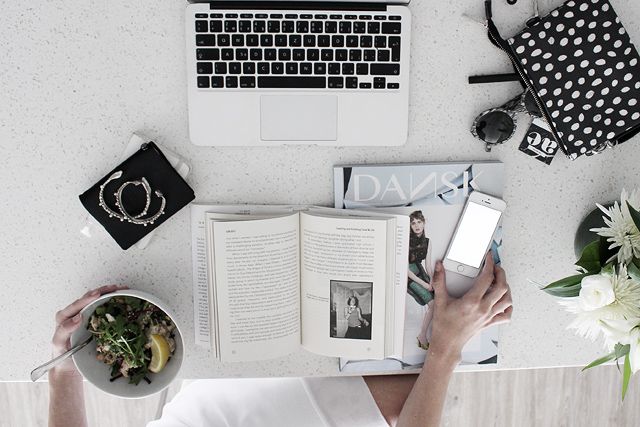 Ph/ by me
_
Since I've been lately somewhat clinging more to the visual presence online (frequent and Instant, for that matter) rather than contextual, I'd like to balance it out by pointing out a #goodread from the hands of others time to time. Written masterpieces or simply articles that made me follow up with thoughts and questions and hopefully will work the same for you.
This time I picked up on articles depicting us. Our generation. The millennials. The ambitious and persistent yet a little lazy and easily distracted, fighting against the convention and stereotype yet getting a little tired of it along the way, with so many options yet so little time. Well, if you find at least a little, switch from your Twitter and Instagram feed to your Pocket app and...
Protože jsem se v poslední době svévolně upnula spíše k online přítomnosti čistě vizuální (a to docela pravidelně a hlavně tedy Instantně) spíše než k té obsahové, ráda bych to čas od času trochu balancovala a napravila tipem na #goodread z dílen ostatních. Na veledíla a články, co mě navedly na spoustu dalších myšlenek či otázek, a snad tak zafungují i na vás.
Tentokrát jsem vybrala články, co se tak trochu točí okolo nás. Naší generace Y. Okolo ambiciózních a vytrvalých, ale také trochu nesoustředěných a lehce znuděných, neustále bojujících proti konvencím a stereotypu, ale také už docela unavených, s nekonečnými možnostmi, ale nedostatkem času. No, pokud si ho najdete alespoň trochu, přepněte na chvilku svůj Twitter a Instagram feed na aplikaci Pocket a...
... read "O matkách a dcerách" on Pavlina Speaks (Czech only)
Another greatly done excerpt from one of Pavlina Louzenska's presentation which I periodically keep missing and largely regreting it afterwards. This time on the ways we shop, how we pick what we shop for and what other activities go alongside with it and mostly how all this has changed radically from the times our parents went to do the same thing. I see myself in every single one of those examples Pavlina mentions. Yes, we truly only live online.
And, while you're at it, read through Pavlina's whole Tumblr. It's a good night read for sure, easy-going yet super factual and educative. Maybe it will make you think about social media and it's effect on yourself in whatever position in the triangle you are much more than before, just like it has made me.
... read "Marc Jacobs: 'I am appalled by the whole social media thing'" on Dazed Digital
An opposed view to social media and what they brought by the 52 year-old creative with a spot on how cluttered our minds thanks to the constant source of information are and what troubles it brings to young designers. Well, all I can say is: count me into the troubled. I believe it's no coincidence my best thoughts come when I am either in the shower or on the airplane. Or anywhere else with zero connectivity. Just mind working on it's own can be refreshingly inspirational sometimes. If only I ever took notes of what I was thinking instead of going to Pinterest and Instagram right after...
... read "I'm not for one man" on Polyglamorous
After first meeting Jana at the start of September MBPFW, quick fitting of her total Louis Vuitton look for the shows and rushing very delayed to get our make-up and hair done for the opening, my immediate thoughts were how nice and friendly she is. How open she is. To a stranger I was at that time. At first I attributed that to her being a model, a professional, who knows how to present herself and living in an enviroment where it's important to get along with everyone + someone who is also living in the communicative American enviroment, far from the Czech typical standoff. After finding out about her blog and reading a few interviews however, I found out it's not just that she's being open-minded and friendly. She's a millenial, absorbing all that life has to offer and wasting zero time while doing so. For some time now, Jana leads an open relationship. Polyamorous, free from convention, based on trust and communication. "I'm not for one man" – and basically all the other articles on polyamory by Jana & Jules (her boyfriend, ed.) – is a good read for anyone who, like me, hasn't quite figured out their stand on monogamy just yet. I've always tried to distance myself from the typical relationship drama and hysteria coming out from jealousy and the typical games women play on men and vice versa. I'm not good at those games, anyway and well... why bother? It's only your own nerves that are at stake. Although I have troubles expressing my true feelings sometimes often, as I tend to be withdrawn and have my own little secrets and fantasy worlds going on (I'm an emotional daydreamer, out to the open), I know I prefer honest and straight-forward communication in (any) relationship rather than merciful lies. Because it's not the infidelity / polygamy I find immoral. It's the bubble of lies people tend to create around it because of the meaningless convention. And I find it ridiculous we should see relationships just in black and white and limit oneself in experiences just because it fits the general idea. Now I'm not saying I'd hop on the polyamorous train (I still haven't downloaded Tinder nor Trinder – is that lame and oldschool?), since I believe that takes more work and further understanding, but seriously, why classify polygamy as "cheating", when in fact an open relationship can be way more pure than a conventional one full of repressed desires or worse – based on lies?
... read "How American Apparel's First female CEO is changing everything" on Marie Claire and "Do fashion trends still exist?" on Business of Fashion
A great interview with Paula Schneider on how important it is to keep American Apparel's edge and an article on how trends became showing and disappearing in such fast pace, they became irrelevant. Both showing slightly different angle on today's fashion world and what us customers actually want nowadays but ending with a same undertone – it's not important to sell the product of the season as it is important to sell the overall lifestyle of the brand. Show it's DNA and make it work for the customers. Isn't that right? Aren't we all suddenly looking for a way to identify with a certain way of life, opinion and choices in our clothing rather than showing a total originality and freedom from everything an everyone (because we kind of already have that within reach)?
... read "The new new" editorial note in DANSK Spring/summer 2015
If you do get your hands on the new issue of Dansk magazine, read the editorial note by Uffe Buchard and Kim Grenaa. If you don't, read it here. I would sign every word. But really, just read the whole issue. It perfectly defines how I feel about nowadays fashion movements. And my own style, too. How perverted I think we are in the constant search of something new but not too much, because that new is old news by the time we find it. So instead we try to find something beyond that and maybe we find something, that was the good old thing all along. Or maybe, we totally give up and call it normcore. "The new new is all about not being overly concerned with novelty, but rather engaged in what's excellent."
_
... přečtěte si "O matkách a dcerách" na Pavlina Speaks
Další skvělý zápis z jedné ze skvělých prezentací Pavlíny Louženské, které pravidelně promeškávám a pak si to pravidelně vyčítám. Tentokrát o tom, jak nakupujeme, proč si vybíráme, co si vybíráme a co všechno se nám s nákupy pojí, ale hlavně o tom, jak radikálně se vše změnilo od doby, kdy na nákupy chodili naši rodiče. Skoro ve všem, co Pavlína zmiňuje, se vidím. Ano, opravdu žijeme už jen online.
Mimochodem, když už jste v tom, vrhněte se na Pavlíny celý Tumblr. Ideální jako pohádka před spaním, čte se zlehka a má pokaždé ponaučení na závěr. Možná vás to, podobně jako mě, donutí nad sociálními sítěmi přemýšlet zase trochu jinak a hlavně mnohem víc.
... přečtěte si "Marc Jacobs: 'I am appalled by the whole social media thing'" na Dazed Digital (pouze anglicky)
Tak trochu jiný úhel pohledu na sociální sítě od tohoto 52letého kreativce s důrazem na to, jak moc nám zanášejí mysl kvůli neustálému přísunu (povrchových) informací a co za problém to znamená například pro mladé návrháře. Já se dobrovolně hlásím k těm postiženým. Nejspíš není náhoda, že nejlepší nápady mám prakticky pravidelně ve sprše nebo v letadle. Nebo kdekoliv jinde, kde je nulová konektivita. Neovlivněný tok myšlenek může být někdy tou nejlepší inspirací. Jen kdybych si občas ty myšlenky rovnou potom zapsala, místo okamžitého zapínání Instagramu nebo Pinterestu...
... přečtěte si "I'm not for one man" na Polyglamorous (pouze anglicky)
Když jsem poprvé potkala Janu začátkem zářijového MBPFW, kdy jsme bleskově zkoušely, jestli jí sedí zaslaný Louis Vuitton komplet a s totálním zpožděním letěly na vlasy a make-up kvůli opening akci, okamžitě mě na ní zaujalo, jak je milá a přátelská. A otevřená. Ke mně, tehdy cizímu člověku. Přisuzovala jsem to k její profesionalitě, modelka, která vždy musí vycházet se všemi na place, musí se umět prezentovat a zároveň žije v komunikativním americkém prostředí, dlouho s odstupem od typické české nepřístupnosti. Poté, co jsem objevila její blog a přečetla si s ní několik rozhovorů, jsem jí ale začala obdivovat ještě víc. Není jen otevřená a přátelská. Je tak trochu průkopnice generace Y, člověk, který nasává všechno, co život nabízí a neztrácí přitom čas. Jana je už nějakou dobu ve volném vztahu. Polyamorní, nekonveční, založený na důvěře a komunikaci.
"I'm not for one man" – a v podstatě všechny ostatní články na téma polyamorie, které Jana píše se svým přítelem Julesem – jsou skvělým čtením pro kohokoliv, kdo zatím nezaujal k monogamii jasné stanovisko. Já se jsem se vždycky snažila mezilidské vztahy brát s určitým nadhledem, vyvarovat se typické hysterii plynoucí ze žárlivosti a nepoddávat se obvyklým hrám a strategiím, co ženy vymýšlí na muže a naopak. Tyhle hry mi stejně nikdy vůbec nešly, tak proč nad tím hazardovat s vlastními nervy? I když jsem občas často sama exemplář totálního amatéra ve vyjadřování svých pocitů, protože občas si prostě žiju ve vlastní realitě plné tajemství a potřebuji odstup, abych si to uvědomila (jsem přecitlivělý snílek, je to venku), jsem si naprosto jistá, že kdykoliv upřednostním upřímnou a přímou komunikaci před milosrdnými lžemi. Protože nevěra / polygamie mi nepřijde nemorální. Nemorální mi přijde ta bublina lží, kterou kolem nevěry lidé vytváří kvůli zarytým konvencím. A přijde mi nesmyslné a nereálné vidět vztahy černobíle a limitovat se ve zkušenostech jen kvůli nějakému obecnému měřítku.
Nemyslím si, že bych se na polyamorii vrhla také (koneckonců jsem si zatím nestáhla ani Tinder ani Trinder a začínám si připadat jako outsider), protože k tomu je určitě zapotřebí rozhodně více znalostí na dané téma, práce a cekového porozumění, ale opravdu mi někdo vysvětlete, proč se polygamie automaticky klasifikuje jako "podvádění", když takový moderní otevřený vztah může být ve skutečnosti mnohem čistější a silnější než leckterý konveční, plný potlačených tužeb nebo ještě hůř – založený na lži?
... přečtěte si "How American Apparel's First female CEO is changing everything" na Marie Claire a "Do fashion trends still exist?" na Business of Fashion (pouze anglicky)
Skvělý rozhovor s novou ředitelkou značky American Apparel Paulou Schneider o tom, jak je mimo profit důležité udržet si DNA značky a článek o trendech, které se začaly objevovat a mizet tak rychle, až se staly irelevantními. Oba články se věnují dnešní módě a zákazníkům z trochu jiných úhlů, nicméně na závěr z nich vyznívá to samé – v dnešní době není tak důležité mít jeden nejprodávanější produkt sezóny jako spíše prodávat celkový lifestyle a získat si stále zákazníky skrze DNA značky. Není to pravda? Nesnažíme se najednou všichni sounáležet s konkrétním způsobem života, názorem a životními volbami oproti té dřívější šílené touze se co nejvíce odlišit a bojovat za svobodu od všech a všeho (protože ta už není až tak nedostupná)?
... přečtěte si "The new new" úvodník v DANSK Spring/summer 2015 (pouze anglicky)
Pokud se alespoň na chvilku dostanete k novému číslu skvělého Dansk magazínu, rozhodně si přečtěte úvodník Uffe Bucharda a Kima Grenaa. Pokud se k číslu nedostanete, přečtěte si článek tady. Podepsala bych se nejradši pod každé slovo.
Ne ale opravdu. Tohle číslo si někde na letišti kupte. Naprosto definuje můj pohled na to, co se s módou momentálně děje. A co se děje s mým stylem a přístupem k ní. Jak je to zvrhlé, že neustále hledáme něco nového, a v momentě, kdy to najdeme, je to už dávno pasé. Anebo zjistíme, že to nové je zkrátka něco funkční a už dávno prověřené. Anebo tu neustálou honbu za novotou radši vzdáme a nazveme to normcore.
"The new new is all about not being overly concerned with novelty, but rather engaged in what's excellent."
_
How do you feel about the millenials and these articles? Are there any others you read on the topic and I shouldn't miss? Let me know, I'm dying to see and read what else is out there!
Co si myslíte o millenials a těchto článcích? Našli jste nějak jiné, co si nesmím nechat ujít? Dejte vědět, zajímá mě všechno!