style scout / Gabi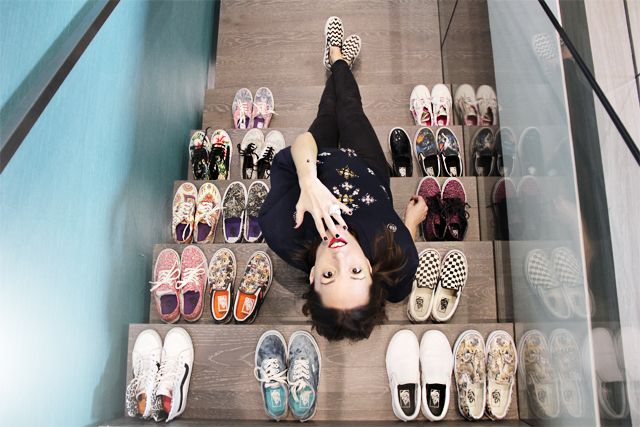 Living in Prague
Marketing and PR coordinator, MAC
Ph/ by me
Special thanks to the Emblem hotel.
_
EN: Have you ever wondered what it would be like, if you had a company dresscode? Would you feel limited? Schizophrenic? Or relieved? Meet Gabi. From a stylish job to a stylish closet and the sweetest personality, she has it all. And she will show you the ropes on how to stylishly mix a total black company dresscode with the crush on Czech fashion and a lust-worthy obsession with VANS as if it was the easiest and most obvious thing on Earth. Simple, with a twist. Enjoy!
CZ: Představovali jste si někdy, jaké by to bylo mít přísný firemní dresscode? Připadali byste si limitovaně? Schizofrenicky? Nebo by to byla úleva? Poznejte Gábi. Od stylové práce, přes stylový šatník až po tu nejmilejší osobnost, tahle kráska to má všechno. A v dnešním článku vám ukáže, jak zkombinovat celočerný firemní dresscode, lásku k české módě a závistihodnou sbírku Vansek jako by to bylo tou nejjednodušší samozřejmostí na světě. Simple, with a twist. Užijte si to!

"I don't mind black, I prefer it.
In monochromacity, you get to experiment more.
You have to be creative with materials, tones and cuts."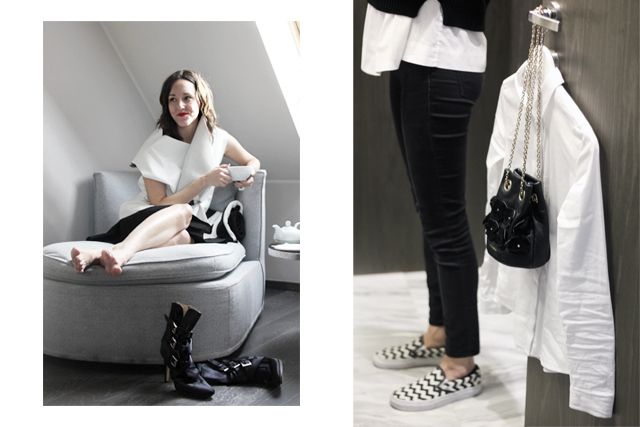 On the left: Leather vest by Mirka Horká, boots by Manolo Blahnik. On the right: Shirt by COS, bag by Coccinelle, slip-ons by VANS.
EN: How many VANS pairs do you have in total? Which is your all time favourite?
I own about 50. My absolute favourites are definitely the glittery silver ones, Bitter Glitter. I've had them for a really long time and it shows, but they are still my number one because you can easily take them out for a day as well as for a party. Right behind are the perforated white leather slip-ons, I love those.
CZ: Kolik párů VANS celkově máš? Který je tvůj all time nejoblíbenější?
Vansek mám zhruba 50. Naprosto nejoblíbenější jsou jednoznačně ty stříbrné se třpytkami, Bitter Glitter. Mám je už hodně dlouho a bohužel už je to na nich trochu vidět. Jsou to cool boty na den, ale zároveň s nimi uděláš parádu i večer. Těsně na druhém místě jsou ty bílé kožené "slipony".
Wool coat by ODIVI, necklace by Vero Moda, clutch by Primark.
EN: How would you describe your style?
Simple, with a twist. I really like simple, yet significant and edgy cuts with something different to them. It usually takes a little interesting detail or a statement jewel for me. I like to stand out. Most likely I'll pick one favourite piece and then style simple basics around it to compliment it as much as I can. It can either be a funky pair of shoes, jewellery or even make-up.
CZ: Jak bys krátce popsala svůj styl?
"Simple with a twist." Mám ráda jednoduché, ale zároveň výrazné a silné střihy spojené s něčím neobvyklým. Stačí jen zajímavý detail, nebo výrazný doplněk. Ráda vyčnívám z davu. Většinou si vyberu jednu věc a kolem toho doladím zbytek outfitu tak, aby vynikla. Můžou to být i boty, šperky nebo dokonce i make-up.
EN: How is it afftected by working for MAC? Are you dressing differently over the weekends or would your closet be mostly black even without the company's dresscode?
When I first started at MAC, all I had in black were two dresses! Otherwise it was a total blast of colours, very carneval. I got used the dresscode pretty quick however. I don't mind black, I prefer it. You get to experiment more, when dressing monochromatic, actually. You have to be creative with materials, tones, cuts... Did you know black has the most shades of all the colours?
CZ: Jak ho ovlivňuje tvoje práce pro MAC? Oblékáš se o víkendech jinak? Měla bys v šatníku převážně černou i bez firemního dresscodu?
Když jsem začala pracovat pro MAC, měla jsem ve skříni dvoje černé šaty a zbytek byl barevný karneval. Ale zvykla jsem si rychle, černá mi nevadí, právě naopak. Když vše ladíš monochromaticky, do jedné barvy, musíš být daleko kreativnější, přemýšlet o různých materiálech, odstínech, střizích… Věděla jsi, že černá má nejvíce odstínů ze všech barev?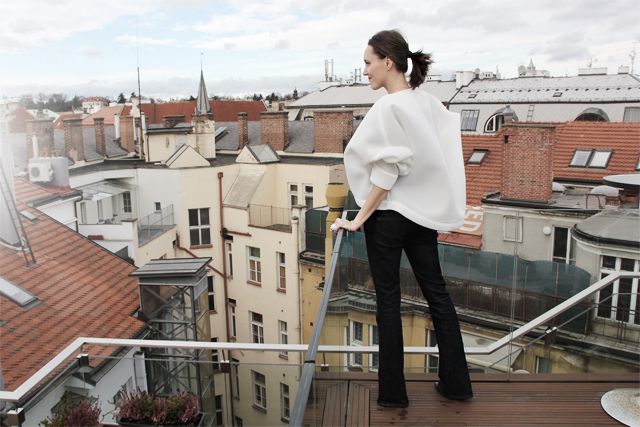 Foam jacket by ODIVI, bell-bottom jeans by VANS.
EN: What's your favourite fashion destination in Prague? Is there a spot where you know you will definitely buy something?
Oh, absolutely Debut gallery. That is where I shop the most and very rarely I leave empty-handed. They have the best selection of local and foreign young designers and for great prices. Other than that, I often shop at ODIVI and then COS. Mostly for shirts.
CZ: Jak bys krátce popsala svůj styl?
Jednoznačně Debut gallery, tam nakupuji nejraději a většinou nikdy neodcházím s prázdnou. Mají skvělý výběr lokálních i zahraničních návrhářů za dostupné ceny. Dále ještě u ODIVI a v COS hlavně košile.
From left to right: Ankle boots by Vagabond, satin boots by Manolo Blahnik, pumps by Buffalo, patent slip-ons by VANS.
EN: What is the most expensive thing in your closet?
The Versace gladiator knee boots I bought a few days ago.
CZ: Za co ze šatníku jsi v životě utratila nejvíc?
Před několika dny, za vintage šněrovací sandálky až po kolena značky Versace.
EN: What's your perception of Czech designers and their activities?
I think it all moved fast forward in the past months. The qualite local production is finally getting closer to the customers and it's really great to see the Czech fashion getting to surround us in daily life. I love Czech designers and I support them as much as I can. They make a huge part of my closet.
CZ: Vnímáš české designery a jejich aktivity pozitivně?
V poslední době jsme se u nás v tomto směru posunuli mílovými kroky kupředu. Kvalitní lokální produkce se přiblížila blíže k zákazníkům a tak ji konečně můžeme začít vídat v každodenním životě kolem sebe, což je myslím obrovský úspěch. Miluju české designéry. Jejich modely tvoří velkou část mého šatníku.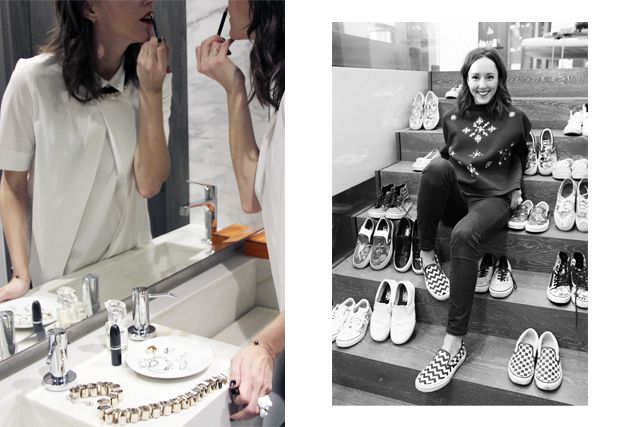 On the left: Shirt by COS, ring by Shit Happens. On the right: All shoes by VANS, jumper by H&M, jeans by Zara.
EN: What fashion movement influences you the most? Are you familiar with the nowadays normcore, health goth, sporty chic... waves?
It's hard to categorize, I never really thought of my style that way. I am close to the ideas of sporty chic and normcore but I don't strictly follow any of those.
CZ: Který směr v módě tě nejvíce ovlivňuje? Vnímáš současné vlny normcore, health goth, sporty chic...?
Je těžké se někam zaškatulkovat, nikdy jsem nad tím takto nepřemýšlela. Z těchto vln mi je blízká sporty chic i normcore, ale že bych se striktně držela určitého stylu, to ne.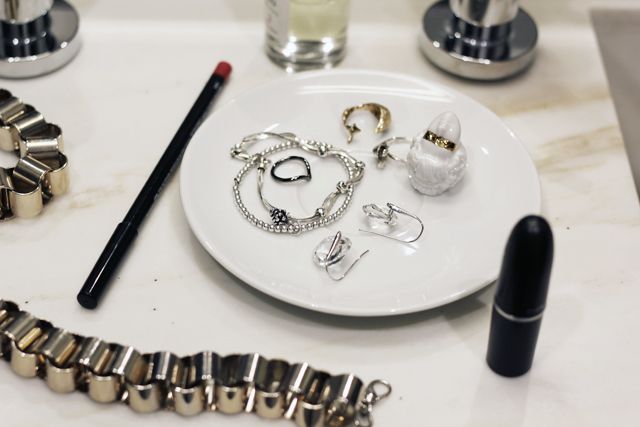 Porcelain ring by Shit Happens, metal ring by Janja Prokić, necklace by H&M, lipstick and lip-liner by MAC.
EN: Who's your nowadays icon?
For example Mira Duma, Elisa Nalin, Karla Deras, Jenna Lyons, Caroline de Maigret or Iris Apfel. I love their attention to detail and originality.
CZ: Kdo je pro tebe novodobá ikona v oblékání?
Například Mira Duma, Elisa Nalin, Karla Deras, Jenna Lyons, Caroline de Maigret a taky Iris Apfel. Líbí se mi hlavně jejich smysl pro detail a neprvoplánovost.
EN: What are the favourites in your closet at the moment?
The orange (yes, ORANGE!) wool ODIVI coat, the black Oscar de la Renta sandals with a huge bow and Vans slip-ons with the chevron print.
CZ: Co jsou momentálně tvoje nejoblíbenější kousky ve skříni?
Oranžový (ano, ORANŽOVÝ!) vlněný kabát ODIVI, černé sandálky s velkou mašlí Oscar de la Renta a Vans slip-ons s mým oblíbeným chevron potiskem.