guilty pleasure
Ph/ Sandra Kisić
Wearing pearly bomber jacket by H&M trend, vintage leather cap and backpack by AlexMonhart. _
I don't have much craze/cute pieces in my closet. There's Sandra for neon stockings or big bows and Paulina for shell sunglasses and cheerleader uniforms. As you know, my closet is more of a mix of sophisticated and daily basics and I only go cray cray with materials. So you probably wouldn't imagine me getting so excited about a pearly puffy bomber jacket my mum would probably find somewhere in her closet from the late 80s, right? And yet here it is, I love it and it's my absolute guilty pleasure I can't wait to wear again and would even teleport myself to the snow in Prague for a bit for. Cray cray.
What's yours closet guilty pleasure?
Ve skříni zrovna moc roztomilých výstřelků nemám. Na neonové pučnochy a obří mašle je tu Sandra, na mušličkové brýle a uniformu roztleskávaček zase Paula. Jak asi víte, u mě byste našli spíše jednoduché každodenní kousky a občas si ulítávám maximálně tak na materiálech. Takže byste si asi nemysleli, že se nadchnu pro takovou třpytivou perleťovou a obrovskou péřovku, kterou by moje mamka asi ještě našla někde ve skříni z konce osmdesátek, co? A stejně jsem po ní skočila, je to můj malý milý úlet, co mě zdraví denodenně ve skříni a dokonce bych se kvůli ní i na chvilku ráda teleportovala do pražského sněhu. Cray cray.
Co je váš skříňový úlet?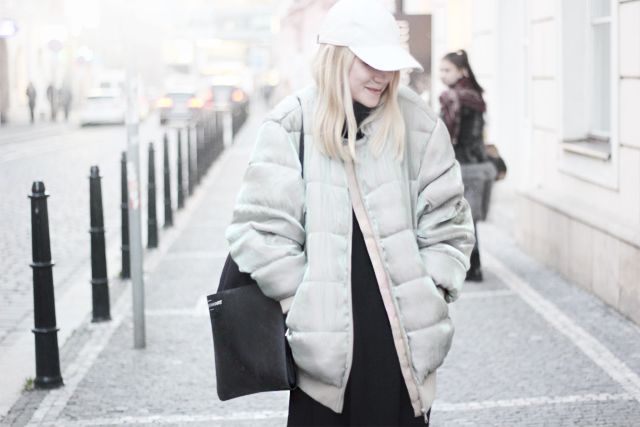 _
See my other outfits:
[rps category_ids="9"]