initially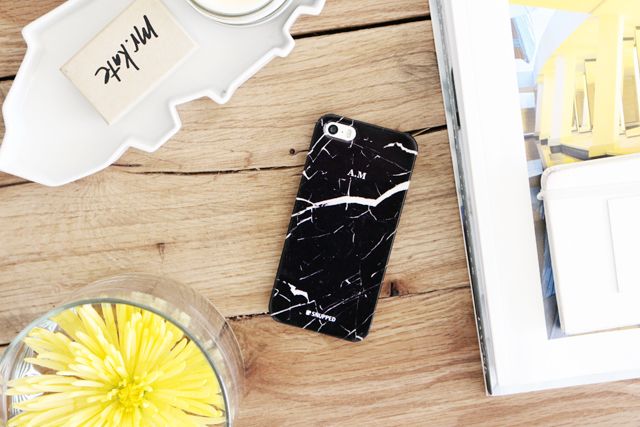 Ph/ by me
Personalized iPhone case by Snupped. _
Initially I didn't think black marble would become such an obsession for me, however before I knew it it became sort of a crucial part of my CI. It's on my debit card, my business cards, my clutch, my phone… and I would like to get some bits and pieces for our apartment, too. (Alexander, would you like to sponsor me on that?)
By now, it has my initials on it. Literally. And if you'd like to have a little piece for yourself too, you can! Together with Snupped I decided to host a giveaway where one lucky reader will get a customized case for his/her iPhone. You can either pick this one by me with your initials on it, pick one from Snupped's collection or upload your very own. Ready?
The rules are really easy:
1) Follow @snupped on Instagram for inspiration; 2) Head over here and share this picture on Facebook (publicly, so I can see it).
There, that's it. I'll pick a winner in 10 days. Good luck!
Původně jsem si nemyslela, že u černého mramoru vydržím tak dlouho, ale dříve než jsem se nadála je z něj tak trochu součást mé CI. Už ho mám na debitce, na vizitkách, na psaníčku, na mobilu… A nebráním se žádným dalším kouskům do bytu. (Alexi, nechtěl bys mě trochu zasponzorovat?)
Teď už má na sobě černý mramor moje iniciály. Doslova. A aby vám to nebylo líto a kus jste si taky mohli odlomit, spojila jsem síly se značkou Snupped a rozhodla se udělat soutěž. Jeden/jedna z vás vyhraje vlastní obal na mobil. Můžete si buď vybrat tento design ode mě (kde vám pochopitelně upravím iniciály), jeden z nabídky Snupped nebo nahrát nějaký zcela vlastní. Jste připraveni?
Pravidla jsou dost jednoduchá:
1) Začněte sledovat @snupped na Instagramu pro inspiraci; 2) Klikněte sem a sdílejte fotku na FB (veřejně, abych ji viděla).
Tak, a to je všechno. Vítěze vyberu za 10 dní. Hodně štěstí!
_
See other pretty things:
[rps category_ids="249"]