The perks of being petite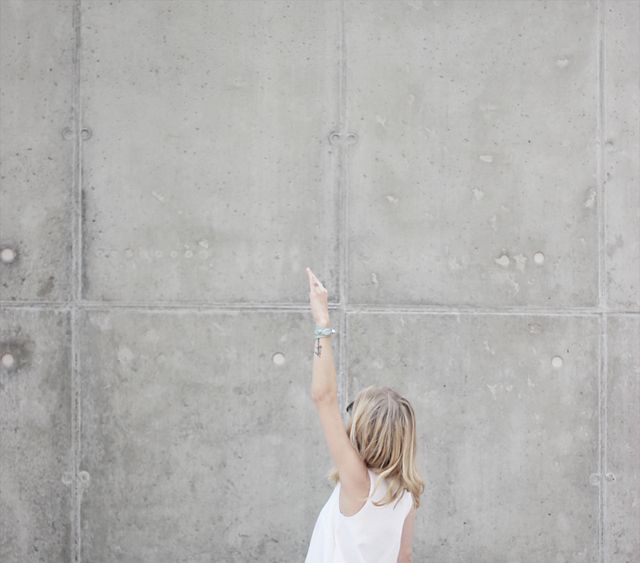 Words: Adela Mazankova
Photo: Sandra Kisic
____
Growing up, I have always been the shortest in class. Always. And I have never regretted it. Truly never. There are simply so many great things about being a petite girl. Apart from looking and/or being called cute and adorable all the time (even when you're furiously throwing and kicking things), being in the middle and front of every picture (feeling very important and integral to the group), not having a height problem when dating men (tall, short, middle sized… all of them work), having all the travel space you need (and still being loved by your companions), getting offered help with heavy and high positioned things (from cute looking strangers) or simply being the element of surprise that no one saw coming (literally), there are lot of fashion related perks, too.
Vždycky jsem byla nejmenší ze třídy. A nikdy mi to nevadilo. Být malá a drobná holka je totiž v mnoha ohledech super. Kromě toho, že vždycky vypadáte roztomile (i když zrovna vzteky pukáte a kopete do věcí), vždycky jste uprostřed a vepředu skupinové fotky (a připadáte si díky tomu důležitě a jako středobod partičky), nikdy nemáte problém při randění (vysocí, středně vysocí, ale i malí… nikdy nebudou menší, než vy), vaše nohy se všude vejdou a cestuje se vám tím pádem vždy pohodlně (a i spolucestující vás za vaši maličkost milují), často dostáváte milé nabídky na pomoc s těžkými nebo vysoko položenými věcmi (od milých a hezkých cizinců) nebo jste prostě pro všechny nečekaným překvapením samostatnosti (když na to dojde), existuje i spousta výhod z hlediska oblékání.
1 / Fashion rules don't apply
This relates to looking adorable all the time. It's not just you don't look threatening, when you're furious. It's looking cute, even when you're in a ten times bigger top shaped like a potato sack and not balancing it out with anything slim fitted or teeny tiny. You don't have to. YOU are teeny tiny. And you know it, so you don't have to be afraid of looking too curvy, too tall, too big, too boyish… You are never too much of anything.
Example: Culottes with flats are forbidden? Says who and why?
Tohle se vztahuje k tomu, že vypadáte vždycky roztomile. Nejenom, když jste vzteky bez sebe. Ale i když na sobě máte o 5 čísel větší pytel a nijak ho nebalancujete ničím vysokým, úzkým nebo titěrným. Vy SAMY jste titěrné. Takže se nikdy nemusíte obávat, že jste porušily pravidla a vypadáte moc vysoké, moc velké, moc žensky, moc klukovsky… U vás není ničeho moc.
Tak například: Že se cullottes nesmí nosit k placatým botám? Kdo to kdy řekl a proč?
2 / There is always THE right size in SALE
Do you know how in central Europe, most women have size EU38 and higher? And do you know how you don't? Small shoes are always waiting there for you in the sale department because all the majority of women had to leave them with words like: "Who can ever fit a size like this? Cinderella?". All the skirts and pants in size 0 ("Who can ever wear a size like this? 14yo model?") are hanging in there till the end of season comes, too. Plus, if you can't find any of the above, you know you can settle with that size XL / 42 top. We agreed with Lainey on this: Any 42-sized top makes the perfect summer dress for a petite girl!
Víte, jak většina žen v centrální Evropě nemá menší nohu než vel. 38? A víte, jak vy ano? Právě na vás ve slevách čekají všechny pidi boty z jihu, které tam většina žen musela nechat se slovy: "Kdo se vůbec vejde do takové velikosti? Popelka?". To samé platí pro sukně a kalhoty velikosti nula nula nic ("Kdo se jako do tohohle vejde? Čtrnáctiletá modelka?"), které na konci sezóny stále v obchodě visí. A pokud zrovna ne, zaručeně tam jsou i ty naopak veliké kousky, ve velikosti XL / 42, a ty vám přece taky sedí. Shodly jsme se s Lainey: Topy vel. 42 jsou těmi nejlepšími letními šatičkami pro malou holku.
Tak například: Obří a ze slev. To vždycky funguje!
3 / Kids sections save money and health
Legíny, čepice, tenisky… Všechny základy šatníku většinou najdete i v dětských sekcích. Z lepších materiálů, s lešpí podrážkou nebo výplní, za lepší cenu. A navíc vám líp sedí, protože číslování má i poloviční velikosti. Geniální.
Tak například:Tenisky za polovinu ceny a ještě ortopedické, to já ráda.
4 / Never too high, never too short
Read perk no. 1 again. Those 13cm heels you are about to wear are definitely not too tall for you. And those denim shorts you bought yesterday are definitely not too short. You won't stand out in a freakish way, just because, well, you won't stand out.
Example:Here, I am wearing 12cm heels. You would't know, would you?
Přečtěte si znovu č. 1. Ani 13cm podpatky na vás nejsou příliš a neudělají z vás obra. A ty džínové šortky na vás zase nejsou až moc krátké. Nechtěně upozorňovat na sebe nikdy nebudete, protože zkrátka nebudete vyčnívat.
Tak například: Tady mám na sobě 12cm podpatky, nikdo byste si ale nevšiml, že ne?
5 / Your tall friends' clothes
… that you can wear but they can't wear yours. This equation only works one way and you're on the better side of it.
… oblečení svých vysokých kamarádek můžete nosit a dědit, protože vám skvěle padne. To vaše jim bohužel ne, takže vám zůstává. Tahle rovnice funguje jen jednostranně a vy jste na té lepší straně, radujte se!
6 / Getting crafty
Altough the sizes you want usually wait for you, sometimes things are still a little too long or a little too big or just need an extra push. If you don't have time for tailoring, you get crafty on the go. We've already established, that any denim simply looks better fringed, so you can cut off those extra 20cm without feeling bad. But there's more. For example, I've learned to do just about anything with a hair-tie. Whether that is changing the shape of my dress or changing the shape of my pants or tying a mesh top underneath my skirt… Good trick that works on petite people (as we are the only ones to afford it) is also to layer a layer on a layer on a layer.
I když malé velikosti většinou v obchodě čekají a už existují i všelijaké petite sekce, občas je přeci jenom něco na piditělo potřeba uzpůsobit. A pokud zrovna neběháte pravidelně ke švadlence, musíte se naučit improvizovat za chodu. Už jsme si stanovili, že jakýkoliv denim je prostě hezčí na konci roztřepený, takže svoje o 20cm delší džíny si můžete bez výčitek prostě odstřihnout. Ale naučíte se využívat i jiné triky. Například já jsem se naučila udělat skoro cokoliv s gumičkou na vlasy. Ať už jde o nařasení delších šatů, dočasnou změnu tvaru a délky kalhot nebo třeba uvázání síťovinového topu pod sukni… Další věc, která skvěle funguje na piditělech (protože si to můžeme jako skoro jediní dovolit) je vrstvení vrstvy přes vrstvu, další vrstvu a zase vrstvu. Aspoň vám konečně přestane ta sukně padat.
7 / Cuter than your boyfriend
Us petite(s) were born for stealing out the boyfriends' closets. You can range from shirts, hoodies, sweatshirt up to bombers and you won't look boyish or masculine or like The Rock. You are going to be cute and your long sleeves will be in fashion. Unisex becoming a trend is right there for you.
Example:I'm not giving this one back.
Jste zrozené pro vykrádání přítelova šatníku. Pánské košile, mikiny, svetry i bomber bundičky jsou ideální a vy v nich nikdy nebudete vypadat maskulinně nebo jako The Rock. Budete vypadat roztomile. Jako vždycky. A jestli vás trápí ty dlouhé rukávy, nemusí. Podívejte se, jak skvělý trend to je. Podobně jako nová unisex vlna.
Tak například:Tuhle nedám.
See? So many advantages! Do you know of anything else? Let me know in the comments!
Vidíte? Šíleně výhod! Napadají vás ještě nějaké? Dejte vědět v komentářích!