fleurs
top H&M | skirt from Shanghai | shoes from Barcelona | bag Balenciaga giant part time | bangles handmade from Zhujijao | pearl bracelets from Shanghai | choker vintage
colours. flowers. romance.
perfect combination for summer?

barvy. květy. romantika.
perfektní letní kombinace?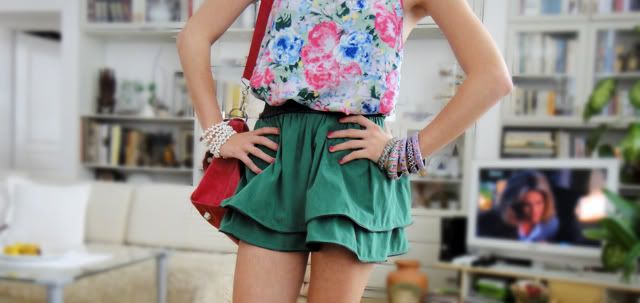 those bangles are handmade from Zhujijao, a tiny village close to Shanghai called chinese Venice due to it's huge amount of canals. i love them but this is actually the first time i actually wore them since when it comes to jewellery i am a faithful proponent of simplistic, silver or gold pieces that go with everything (as you all probably know by now). thanks to my visit to China i also wear (and own) many accessories made of white pearls.
what is your style when it comes to accessories?

náramky jsou ručně dělané a jsou ze Zhujijaa [zhu-dži-džaa], malé vesničky blízko Šanghaje, které se říká čínské Benátky díky tomu množství kanálů. ty náramky se mi hrozně líbí, ale tohle bylo poprvé co jsem si je vzala, protože co se týče šperků a doplňků jsem věrným zastáncem jednoduchých, stříbrných nebo zlatých kousků, které se ho dí ke všemu (ale to už asi všichni víte). díky životu v Číně jsem se také naučila nosit (a vlastnit) hodně doplňků vyrobených z bílých perel.
jak jste na tom s doplňky vy?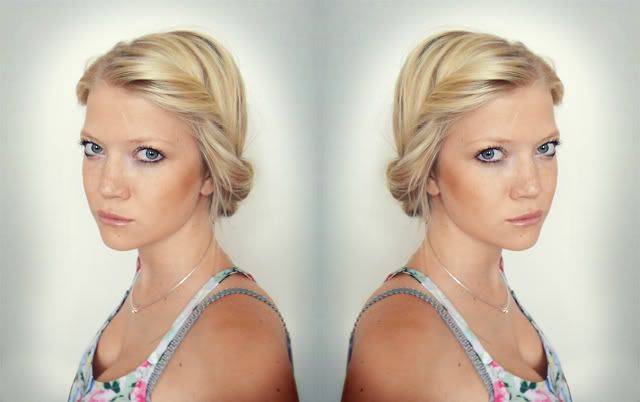 since my hair is short i am finally not afraid to experiment with hairstyles. it's easier now! i know this may seem like a lie but seriously - i have never done anything with my hair when it was long. it took me so much time and effort that in the end i just left it loose or in a ponytail. not much originality, huh?
that's why i am really satisfied with my haircut now. i feel like playing with bobby pins all the time!

od té doby co mám krátké vlasy se nebojím experimentovat s účesy. je to lehčí než předtím! možná se vám to zdá jako kec, ale vážně - když jsem měla dlouhé vlasy nikdy jsem nic za účes nevytvářela. stálo mě to totiž tolik námahy a hlavně času, že jsem je nakonec nechala rozpuštěné nebo v culíku. originalita nikde, že?
proto jsem teď ze střihu nadšená. mám pořád chuť si hrát s pinetkami!


one last thing! thanks to the italian blog PlusG fashion for featuring me.