going pink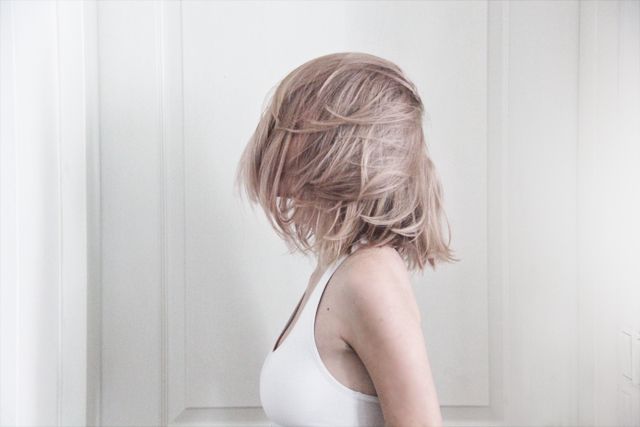 "I want pink hair but I want it to look natural and I want to gain volume but without getting my hair spliced."
Cut and color by Barbora Kolenata from Toni&Guy Opletalova
Ph/ Ales Mazanek and Charlotte Vackova
_
I was born with dark hair. Then I got blonde, and because we lived in Thailand by the time I was little, my hair got close to white. I didn't have too much, my hair was rather a fuzz. Luckily, since first grade, it began to thicken. And thicken. There were times when I had my hair super long and sleek and I could probably do Pantene hair commercials but then graduation came and together with letting go of all the nonsense I had to memorize I knew I wanted to let go of the heavy head too - I cut them to a bob. My mum threatened our hairdresser not to do it at that time but I couldn't be happier afterwards.
Now my hair is this weird combination of being super thin and delicate together with being large in quantity, which is something many people compliments me on, but trust me, I know the dark sides of it. Having qualite stubborn hair means it's absolutely impossible to do anything with the shape and volume.
I always dreamed of having surfer waves instead of this sleek bunch I've been given. But I have also been very fond of my hair. Most times, I could just leave it the way it is and it would look sleek and prepped up. Which means at the same time, I also always neglected my hair. I have never given my hair any extra attention and apart from getting highlights then and there, I have not ever given it special treatment or change at all. Not any cool color, any cool cut or any sort of modern update, really. Partly thanks to not caring about my hair is why I never had to take care of it - see the irony of this?
And you know how a girl's mind works, right? Since I've always stuck to the classics, that simply worked, I eventually grew to the point where I wanted a change - and see if that works, too. And I wanted a colorful one for that matter!
Narodila jsem se s tmavými vlasy. Záhy jsem zblonďatěla, a protože jsem dětství prožila v Thajsku, barva vlasů se mi přiblížila k bílé. Tehdy jsem těch vlasů neměla moc - bylo to spíše takové chmýří... Naštěstí mi zhruba od první třídy začaly houstnout. A houstnout. Byly doby, kdy jsem vlasy měla prakticky po zadek. Dlouhé a rovné, rovnou bych mohla do reklamy na Pantene. Po maturitě jsem se ale rozhodla shodit těžkou hlavu a spolu s nabiflovanými daty i hřívu, a šla jsem do mikáda. Moje mamka tehdy vyhrožovala našemu kadeřníkovi, že pokud mě opravdu ostříhá, tak už k němu nikdy nepřijde. Ale já byla z výsledku nadšená.
Teď jsou moje vlasy zvláštní kombinace jemnosti a šílené hustoty, kterou mi sice skoro všichni chválí, ale já znám i její temné stránky. Kvalitní jemňoučké vlasy jsou totiž dost tvrdohlavé a neuděláte s nimi prakticky nic. A i když je jich hodně, objem zrovna nevytváří.
Dlouho jsem snila o velkých rozverných vlnách namísto téhle rovné hřívy, co jsem dostala, ale i tak jsem za své vlasy byla vlastně vždy ráda. A zároveň se o ně nikdy nijak nestarala. Mohla jsem je prostě nechat tak, jak jsou, protože jsou vždy rovné a vypadají upraveně. Nikdy jsem se jim moc nevěnovala. Občas šla na promelírování, ale žádné speciální péče se jim nedostávalo. Nikdy žádná cool barva, cool střih nebo vůbec jakákoliv moderní úprava. Možná právě proto, že jsem se o ně nikdy nestarala, jsem se o ně ale nikdy starat vlastně nemusela - není to ironie?
Jenomže asi víte, jak funguje holčičí mozek. Protože jsem vždy měla na hlavě klasiku, se kterou jsem byla spokojená a která fungovala, došla jsem do bodu, kdy jsem chtěla nějakou změnu, abych si ověřila, jestli nebude náhodou fungovat a vypadat líp. A chtěla jsem změnu barevnou!
Going to a hairdresser and being like "I want pink hair but I want it to look natural and I want to gain volume but without getting my hair spliced." could easily scare someone off or get a tapping on forehead as a response. I'm glad I found the best person who understood me perfectly, discussed the possibilities and questions I had about getting my hair colored for the first time, and had me going home with the freshest cut ever, best strawberry undertone on my head and the biggest smile on my face.
Barbora of Toni&Guy Opletalova is the person to go to. First, we picked the tone to go with. I didn't want anything too cold and too harsh so Schwarzkopf BlondMe in Strawberry seemed like the best option. Complete hair bleaching with peroxide scares me, because I always picture the worst case scenario - damaged hair and uneven spots, I see on all the girls around town. Barbora agreed totally, and to keep the pink tone natural and my hair as healthy as it is, we used the toner on highlights as a shampoo only. For the cut, Bara used a new technique of invisible hair splicing. Only her and a couple more people in Prague know how to do this. And it's THE best-thing-ever, I tell you. I gained volume without seeing the actual layers (and feeling like a chicken) and having my bob as symmetric as possible but with the ability to play around with it makes me love my hair all over again. Thank you thank you, Barbora!
So, what do you think? How do you like my new summer me? If you're currently in between deciding, what to do with your hair next, don't be afraid to make the leap. Change is good. And if you have the right professionals to help you with it, it's even better. So go for it, it's what summer is for, after all!
Jít ke kadeřníkovi se slovy: "Chci růžové vlasy, ale aby vypadaly přirozeně, a chci pořádný objem, ale nechci mít vlasy sestříhané." může někoho odstrašit nebo se setkat s odezvou ve formě poťukání na čelo. Já jsem naštěstí našla tu pravou osobu, která mi nejenom skvěle porozuměla, ale i mi pomohla nezaleknout se a vymést nejistoty ohledně prvního barvení vlasů, a díky ní jsem domů odcházela s nejsvěžejším pocitem, skvělým růžovým tónem na hlavě a s nějvětším úsměvem na tváři.
Bára z Toni&Guy Opletalova je ten pravý člověk, za kterým jít. Napřed jsme spolu vybraly tón. Protože jsem nechtěla nic studeného a příliš zářivého, Schwarzkopf BlondMe Strawberry byl tou pravou volbou. Celistvé odbarvování vlasů peroxidem mi vždy nahánělo hrůzu, protože si pokaždé představím ten nejhorší možný scénář, obzvlášť, když to občas vidím kolem sebe - ty zničené vlasy a flekaté výsledky. Bára mě od toho sama odrazovala, a abych si udržela kvalitu vlasů a růžová ve vlasech byla spíš jako přirozený nádech, použila toner jen na melíry, jako šampon. Střih měla v hlavě rovnou jasný. Použila speciální techniku vnitřího sestříhání, kterou kromě ní umí v republice jen hrstka dalších. Je to ta nejlepší věc na světě, pro všechny, co nemají rádí svoje vlasy splihlé, to vám přísahám! Zčistajasna mám konečně objem, a to aniž bych se musela do zrcadla koukat na přeleželé sestříhané prameny, co jdou všemi směry. Mikádo mám rovné, symetrické a přitom si s jeho objemem můžu skvěle hrát. Moc moc děkuji, Báro!
Co si myslíte, líbí se vám to? Aspoň tak, jako mně? Pokud jste ve stejné fázi váhání, tak vám změnu můžu jen doporučit. Změna je vždycky super, obzvlášť, pokud máte po ruce profesionály, co vědí, co dělají. Takže do toho! Kdy jindy, než v létě?