Flash trip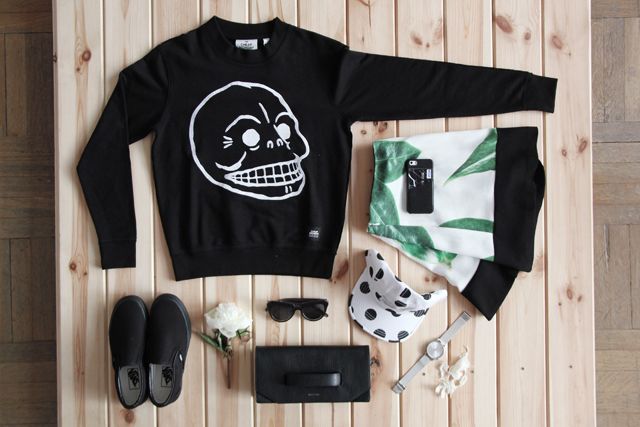 Ph/ by me
From left to right: black slip-ons by Vans, jumper by Cheap Monday, 'Stella' sunglasses by Komono, clutch by Matt and Nat, cap by WeSc, watch by Komono, skirt by WeSc and iPhone case by Mujjo (all via Freshlabels.cz). _
I'm on my way to Berlin tomorrow, for a flash trip to see the PREMIUM & Seek trade shows, Czech Fashion Design in Focus and some other presentations and fashion shows, while I plan to bike around the city a little bit, drink coffee all day and simply have fun in the sun aswell.
It's always a little tricky to find the right combination and balance between all day long practical and a little dressy. Together with Freshlabels I put together a selection with my tricks: comfy shoes, fancy skirt, practical black and hands free from clutter (for when you need to take a fish-eye selfie). What do you say?
Zítra se vydávám na kraťoučký výlet do Berlína, omrknout PREMIUM a Seek, naše designery v Českém centru a nějaké další prezentace a přehlídky, zatímco si současně chci pojezdit městem na kole jen tak, popíjet celý den kávu a zkrátka si užít trochu pohody na sluníčku.
Obléknout se dobře a najít ten správný balanc mezí celodenní praktičností a přehlídkovou formálností je vždycky trochu složité. Spolu s Freshlabels jsem ale vytvořila selekci mých oblíbených produktů a současně oblíbených triků na takové dny: pohodlné versatilní boty, elegantní sukně, praktická černá a co nejvíc věcí v rukou (když si zrovna třeba potřebujete udělat selfie s fish-eye objektivem). Co říkáte?