BMW stories / Bavaria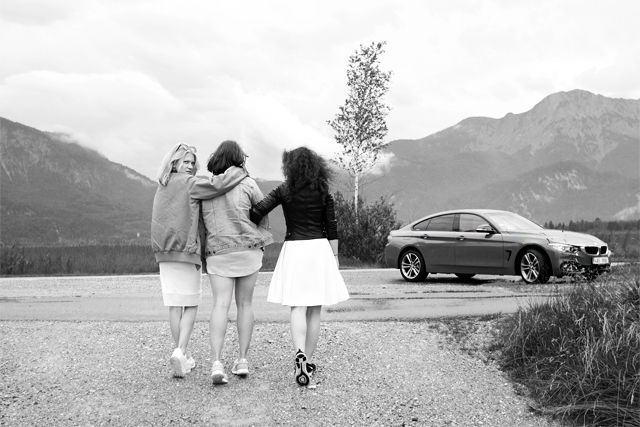 Ph/ by me, Sandra Kisic and Martina Vackova
_
EN: If you're going on a weekend getaway alongside with two other girls, there are a few things to expect:
a) you will cover ALL of the topics, from the US economical screw-up to what diet is absolute nonsense and why it is good when your Instagram feed feels organized,
b) there will most certainly be an occasion for a red lipstick (and prosecco!), so do take one,
c) you will get reassured that all of the stereotypes about women are true and that's exactly what makes us awesome, eventually.
If you're puzzled by what #lilredtrippin actually means, it's the combination of us being short and having a handsome companion for the the trip - a red BMW 4 Gran Coupé that truly gets more attention than the red lipstick does and is as elegant too.
We kicked off our little weekend getaway on Friday and our first overnight stop was little cosy Garmisch-Parterkirchen. The 5 hour drive from Prague is absolutely fine - especially if you follow Martina's guide of a perfect road trip and you let her drive like a turbo. Trust me, if you're ever going to Bavaria, make sure to go to Garmisch and to take the cableway up to one of the pointy beauties. The top of Alpspitze is just perfect in summer! Well, don't you agree? By the time we got there, the little drizzling that followed us stopped and although it was a little cold and windy, I would totally be up for staying the whole day just overlooking the green and grey surroundings. Another reason to come back!
For the weekend we stayed over in Munich and I was beyond curious. Will I be as disappointed as the last time I was there? Turns out, all it takes to enjoy a city is to go with someone who appreciates a stylish hotel, doesn't mind getting a 6 Eur smoothie with you, loves a good concept and sustainable fashion shops as much as you do and doesn't give you a look when you're jumping from joy from a "souvenir" which is a basic white tee from a local designer, while there is a little bit of sunshine on top of it all. Second chances are worth it, sometimes!
CZ: Pokud se vydáváte na víkend pryč s 2 dalšíma holkama, měli byste vědět, že:
a) vaše konverzace bude bujará se bude pohybovat od problémů americké ekonomiky až po diskusi o tom, jaká dieta je totální nesmysl a proč je fajn mít hezoučký Instagram,
b) pravděpodobně bude příležitost na červenou rtěnku (a prosecco!), tak si ji vemte,
c) poznáte, že všechny stereotypy, co se o ženách povídají, jsou pravda ale je to přesně to, proč jsme my ženy super...
Pokud vám nejde na mysl, co to vlastně znamená #lilredtrippin: je to kombinace nás, malých holek, a skvělého parťáka na cestu, kterého jsme si vypůjčily - červené BMW 4 Gran Coupé, který skutečně budí více pozornosti než červená rtěnka a je snad ještě elegantnější.
Naši cestu jsme načaly už v pátek a první zastávkou na noc bylo útulné městečko Garmisch-Partenkirchen. Pětihodinová cesta z Prahy je sem jak nic, obzvláště, pokud se řídíte tipy od Martiny a současně jí necháte řídit - jede jak drak!
Jestli se teď v létě chystáte do Bavorska, rozhodně nevynechte právě Garmisch a vyjeďte si lanovkou do nějakého ze špičatých kopců. Vrcholek Alpspitze je prostě perfektní! No ne? Když jsme se tam dostaly, konečně trochu polevilo poprchávání, a i když byla trochu zima a větrno, vydržela bych se tam na zeleno-šedé okolí koukat snad celý den. Další důvod k tomu se vrátit!
Ze soboty na neděli jsme přespávaly v Mnichově a mně hlavou běhala myšlenka jestli budu z města zase tak zklamaná, jako když jsem tam byla před dvěma lety poprvé. A nebyla! Ukázalo se, že co zabírá, je mít s sebou někoho, kdo má taky rád stylové hotely, nevadí mu dát si avokádové smoothie za 6Eur, kdo také miluje dobré koncepty a obchody s udržitelnou módou a kdo se na vás nedívá divně, když skáčete nadšením ze "suvenýru", respektive jednoduchého bílého trička od lokální návrhářky, zatímco k tomu všemu svítí sluníčko. Druhé šance za to zkrátka někdy stojí!