In the mountains

Ph/ Michaela Slobodova, Martina Vackova, Sandra Kisic
_
EN: To be honest, I haven't been on a touristic trip with a big group of friends for a rather too long time. Probably since high school. You know how it is, school ends, too much work, travel and serious relationships come in in exchange and before you know it, you have a Skype call with your best friend set up between all the other Skype calls with your boss.
It's actually all those early wake-up times, drunken games at night, exhausting walks, timely group pictures or a slight organizational chaos that I miss from my high school trips so much. You don't get that as an adult. So to bring all of this back while linking it to our work - creating visual content (not just for) social media active - was a genius idea and I can't wait for another #najforever event to take place. Let's do that soon, shall we?
CZ: Abych pravdu řekla, na opravdovém turistickém výletě s bandou kamarádů jsem nebyla už hodně dlouho. Pravděpodobně od střední školy. Znáte to. Škola skončí, vystřídá ji (pořád hodně) práce, seriózní vztahy, zabydlování, neustálé cestování za hranice… a než se nadějete, máte Skype s nejlepší kamarádkou zapsaný v kalendáři natěsno mezi schůzkou a Skypem se šéfem.
Moc mi z těch školních výletů vlastně chybí i ty typické drobnosti, jako jsou ranní budíčky na rozcvičku a čaj, alkoholické dýchánky a společenské hry, vyčerpávající procházky, zdlouhavé skupinkové fotky nebo i ten organizační chaos, který zkrátka zákonitě musí občas nastat. Vrátit si občas tohle vše zpátky a současně to propojit s prací, kterou všichni děláme - tvorba vizuálního obsahu (nejenom) na sociálních sítích - byl geniální nápad, a už teď se nemůžu dočkat dalšího #najforever výletu. Pojďme ho udělat brzy, hm?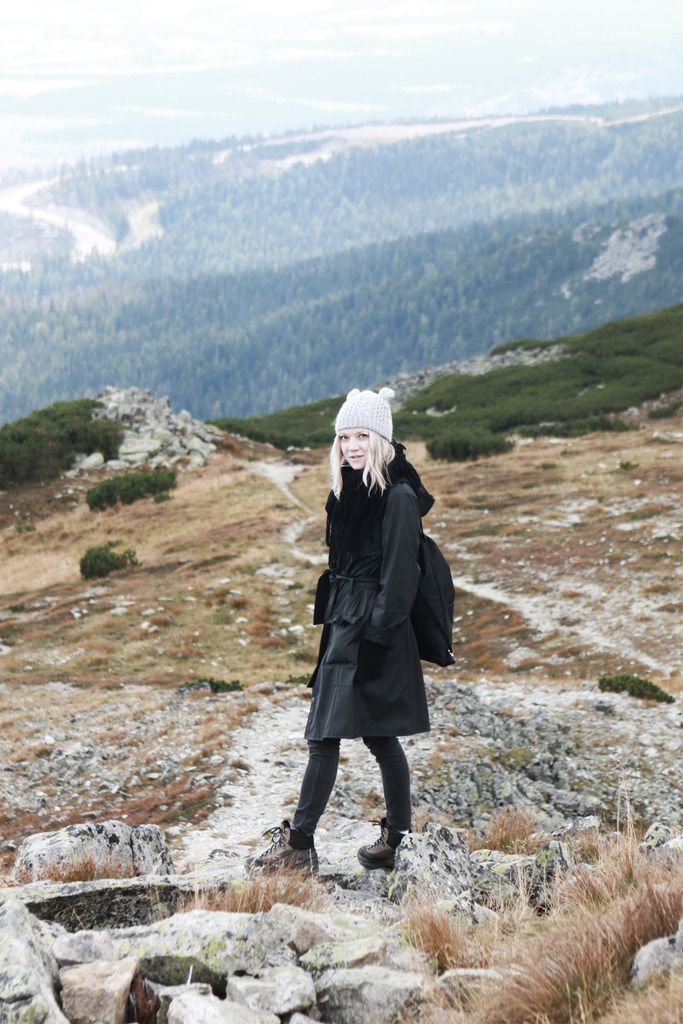 If you follow ANY social media, you probably haven't missed our weekend getaway to High Tatras. May I remind you? You can look at it from two points of view. A bunch of bloggers on a hunt for picturesque surroundings for their Vans shoes and Herschel backpacks, staying in a fabulous Instagram-worthy apartment and hotel, taking pictures and Snapchats every other minute OR a bunch of friends, trying to go leave Prague behind, fit everything into their Mini Countrymans, cook for each other, celebrate birthday on a boat and have so much fun while hiking and getting drunk on Kingswood and vodka in the evening while playing Cards against humanity. Well I guess it was both together. And it was fantastic. But I think the photos speak for themselves…
Jestliže sledujete jakékoliv sociální sítě, náš výjezd vám asi neunikl. Můžu připomenout? Dívat se na něj dá z dvou úhlů. Skupinka blogerů na lovu těch nejfotogeničtějších míst a pozadí pro jejich Vansky a Herschely, ubytovaných v neméně fotogenickém apartmánu a hotelu, s mobilem v ruce pro zachycení každého momentu na Instagram nebo Snapchat ANEBO skupinka kamarádů, co si chtějí na chvilku oddechnout od Prahy, nacpat svoje věci do dvou Mini Countrymanů a vyrazit na výlet, vzájemně si uvařit dobrou večeři, oslavit narozeniny na loďkách a užít si zábavu na horské túře i večer, opilí z vodky a Kingswoodu během hry Cards against humanity. Ano, ve skutečnosti to bylo oboje dohromady a bylo to naprosto skvělé. Ale fotky ve finále asi stejně řeknou nejvíce.