Local / Sans Résidence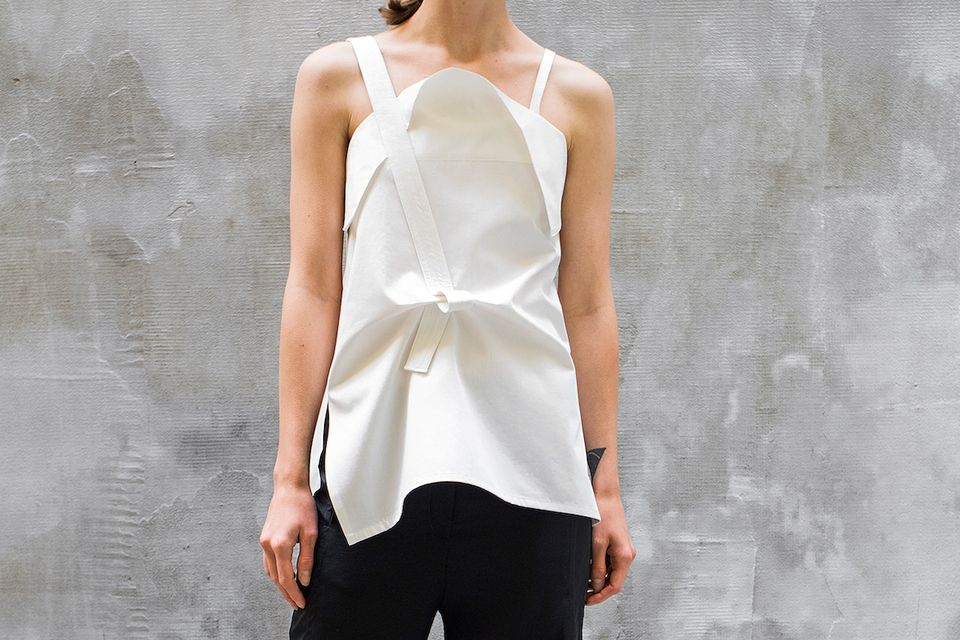 Ph/ Ewgeniya Lyras
_
EN: It gives me great pleasure to discover great projects done by young people that combine great creativity and thought in their doing. The young Czech fashion scene has grown immensely through the past 3 years, both professionally and creatively. Just take a look at Chatty's fantastic progress, for example. A lovely parallel to our whole market, actually. From Designblok to fashion tent at Pařížská to crowdfunding for their Berlin experience to Bloody Gray's showroom in Paris… Every year it's not just their collection that is up a level, it's also their work drive and their professionality that gets bigger and bigger. Wish all my luck to you girls!
More and more designers are starting to take the risk and cross the boundaries of our little pond, taking the neccessary step to the outer world, crossing borders and erasing their force by blending into the business of fashion as a whole.
CZ: Dělá mi hroznou radost objevovat stále vznikající projekty mladých lidí, které kombinují v tvorbě kreativitu s hlubší myšlenkou. Česká módní scéna udělala za poslední 3 roky mílové kroky, profesně i kreativně. Vemte si například neuvěřitelný progres holek ze Chatty, který je takovou milou paralelou k vývoji celého trhu. Z mola Designbloku do stanu v Pařížské přes crowdfunding a první zkušenost v Berlíně až po Bloody Gray showroom během Paříže… Nejsou to jenom jejich kolekce, které jsou sezónu co sezónu o úroveň výš, je to i jejich větší a větší pracovní drive a profesionální přístup, který je žene skvělým směrem. Fandím vám, holky, a držím palce!
Stále více designerů z našich končin se přestává bát riskovat a překročit hranice našeho malého trhu. S náročným, ale potřebným krokem do neznáma, mažou moc těchto hranic a pomáhají své i naše jméno začleňovat do globálního módního dění.
EN: Changing homes and blurring borders, such a strong topic and reality for many these days, is also the main impulse Ewgeniya Lyras had to create her brand called Sans Résidence. Ewgeniya herself in between borders, originally from Minsk, finishing her studies in London and now creating in Prague and Nuremberg, wanted her first RTW collection to reflect her lifestyle, nomadic state of mind and to represent a fresh start. She wanted to create something that fits to any occasion, any place and any situation in life. The ultimate minimalist approach, no? And I think she succeeded well. Right the first moment I saw the SS16 collection, consisting of seven variable pieces, I wanted to get my hands on it and created imaginary head-to-toe #iwantitall wishlist. Clean signature style and effortless aesthetics together with a strong message conclusively speak to my taste and I am glad to welcome this promising designer on our local scene and eager to see her next steps. In the meantime I'm clicking the 'Front pinched white top' to my other/Prague home. What about you?

CZ: Kroky do neznáma, změna domovů a rozostřené hranice - silné téma a v této době i realita mnohých - byly také hlavním impulsem pro Ewgenyii Lyras k založení značky Sans Résidence. Sama Ewgenyia tak trochu mezi hranicemi, původně z Minsku, s ukončeným studiem v Londýně, nyní tvořící v Praze a Norimberku, chtěla, aby její první RTW kolekce odrážela její životní styl, nomádský stav mysli a aby reprezentovala nový začátek. Chtěla vytvořit něco, co se bude hodit pro každou příležitost, každé místo a každou životní situaci. Sen každého minimalisty, ne? A já myslím, že se jí to podařilo. Hned po prvním shlédnutí lookbooku jsem si v hlavě začala vytvářet #iwantitall wishlist, protože se mi kolekce líbí od hlavy k patě. Čistý styl a linie i ležérní estetika v kombinaci se silnou zprávou za tím vším mě prostě nekonečně baví a tak jsem ráda, že tento nový přírůstek můžeme uvítat na naší lokální scéně a jsem neuvěřitelně zvědavá na další kroky této značky. Mezitím mě omluvte, zatímco si do svého (druhého) domova v Praze nechám poslat ten skvělý 'Front pinched white top'. Co vy?