TAXI!


in the last post i talked about playing. well, here is one more example of that. i think everyone (especially us girls) likes role plays time to time. and the 25th of September was full of those for me.
Barb's put together a concept of an all-day photoshoot with me playing an editor off to a meeting / blogger enjoying the attention of street style photographers / shopaholic in the mall / celebrity on the run from papparazzi and to make it even more special, she asked talented Lou to do the make-up.
of course it didn't take me long to say, "yes, i'm in!"
and to be honest, i'm really happy i did because i'm absolutely excited about the result and i hope you guys will be too!


so, for you, here is the first part of Barb's little editorial, aka Adela Chloe, the editor. TAXI!


v minulém článku jsem psala o hraní si. a hned tu je další takový. myslím si, že každý (obzvlášť my holky) si občas rád zahraje nějakou roli. a 25. září bylo pro mě takových rolí plné.
Bárb dala dohromady koncept na celodenní focení se mnou v roli redaktorky pospíchající na meeting / bloggerky užívající si pozornost street style fotografů / shopaholika v nákupním centru / celebrity na útěku před papparazzi a aby to bylo ještě lepší, přizvala talentovanou Lou, aby dělala make-up.
samozřejmě mi netrvalo dlouho říct, "ano, jdu do toho!"
¨ a abych pravdu řekla, jsem ráda, že jsem souhlasila, protože jsem z výsledku absolutně nadšená a doufám, že vy budete také!


takže, jen pro vás, první část Bárb malého editorialu, aneb Adéla Chloe, redaktorka. TAXI!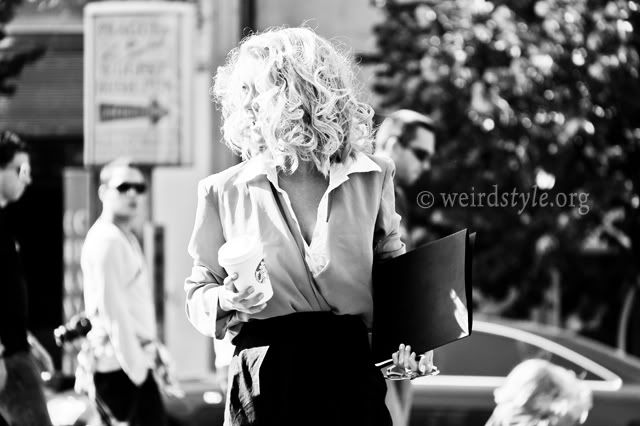 photography: Bárb, weirdstyle.org


styling: me, inadequatecliche.net

skirt Mango | sleeveless shirt Primo Emporio | blazer H&M | shoes Christian Louboutin
make-up artist: Lou, daft-ninny.net