detail: fringe and hologram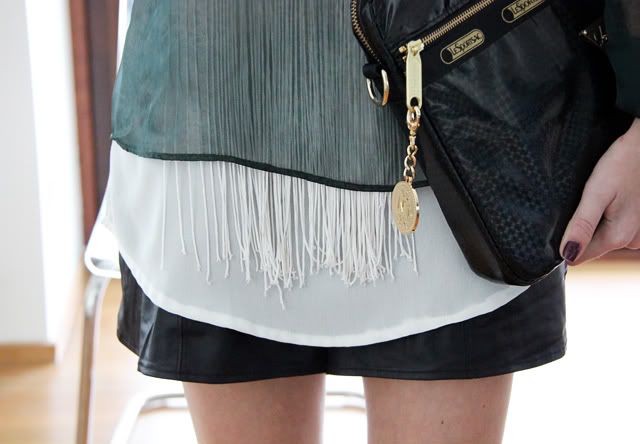 i solemnly declare that the winter semester is now behind me as i have mastered the exam from economics! the most feared economics. therefore i am now ready for the new semester and i have the greatest companion with me - the hologram Sportsac laptop bag.
it's design is very subtle and it's beauty seems hidden and too simple but at the same time the holografic design is very special and i love the way light changes the bag's colours. that's why it goes perfectly with my new mesh shirt with the same hidden beauty. do you see the leopard details? they're very inconspicuous and pop-up only with another layer underneath the shirt. and fringes somehow make the right choice.
oh god, enough blabbering. time to enjoy a huge breakfast with no notes and papers on the table!


slavnostně prohlašuji, že zimní semestr mám (takřka) za sebou, protože jsem naprosto ošéfovala zkoušku z ekonomie! té nejobávanější ekonomie. jsem tudíž připravena na semestr letní a s sebou do boje mám skvělého společníka - novou Sportsac tašku na notebook.
její design se zdá být velmi nenápadným a svojí krásu tahle taška skoro schovává, ale zároveň mi její holografický vzor příjde naprosto viditelný a úžasný a miluju, jak při dopadu světla taška mění barvy. taška se tak perfektně hodí k téhle průsvitné košili, která si svojí výjimečnost taky trochu schovává. vidíte leopardí potisk? skoro není vidět, ale zároveň je perfektním detailem. nejlíp vynikne s další vrstvou pod košilí. a třásně byly dneska jasnou volbou.
tak jo, radši konec žvástání o nesmyslech. je na čase užít si velkou snídani! a to konečně na prázdném stolu bez poznámek a papírů.


bag Sportsac | shorts H&M | top Stradivarius | shirt Zara