FB page pimped up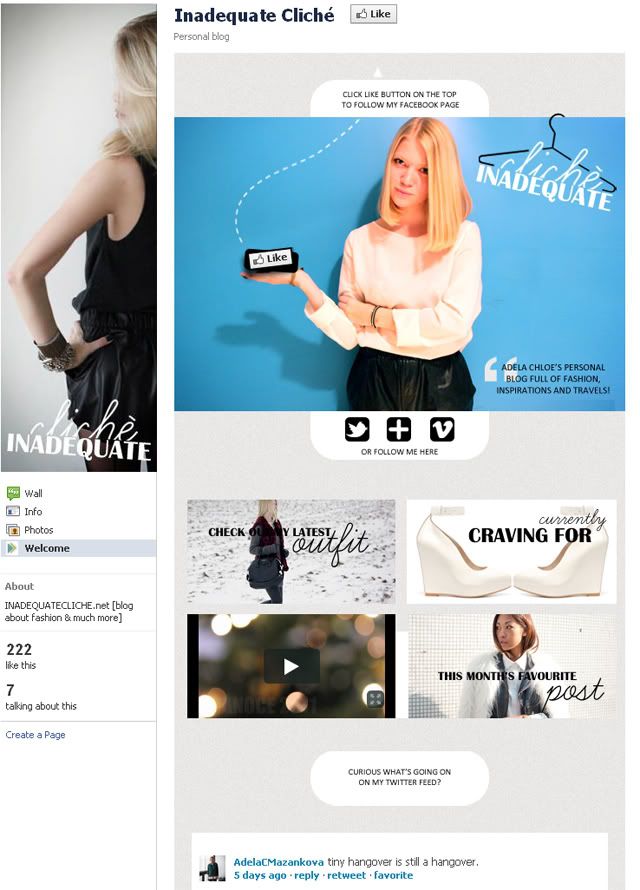 recently, i've been working on my Facebook page. it now has a brand new welcome page! like it?

as most of you now probably know from other blogs, Google Friend Connect will not be available for non-Blogger blogs (= Inadequate Cliché included) from March 1. therefore i recommend to all you, that follow me through GFC, to click like and follow my Facebook page. it's got many advantages! for example: you won't miss a new post on the blog. and you can get a peek of extra photos that are not published on the blog. and, importantly, you'll find out all about my contests and giveaways (i've got few planned for spring already, yay!)!
to the new welcome tab i've also implemented few more things. i finally got used to tweeting so on the tab you can see my Twitter feed - for you curious ones that like to know everything as soon as possible. i've also added a link to my latest outfit so you won't miss it. then there's a link to my current desired product so you can get a tip what to shop for. a little preview of my latest video is also there. and finally a link to my favourite post of the moment on a different blog (foreign or czech) so you can see where i take inspiration from or get a cool tip for DIY project etc.
so what are you waiting for? go CHECK IT OUT and follow!


nedávno jsem zapracovala na své Facebookové stránce. nyní má zbrusu novou welcome page. líbí se vám?
jak mnozí z vás už jistě ví z ostatních blogů, Google Friend Connect končí od 1. března pro všechny ne-Blogger blogy (= Inadequate Cliché taky). proto apeluji a doporučuji vám všem, co mě sledujete právě na GFC, aby jste si mě přidali i na Facebooku a sledovali mě tam. má to hodně výhod! například: nepromeškáte žádný nový článek. uvidíte i fotky, které se na blogu nikdy neobjeví. a hlavně, dozvíte se o všech soutěžích, které budou probíhat (a na jaro už jich je několik naplánovaných, jupí!)
na novou welcome stránku jsem také přidala několik praktických věcí. konečně jsem přišla na chuť tweetování a tak je tam přenos z mého Twitteru - pro vás zvědavé, kteří chtějí vědět vše co nejdříve. také jsem přidala obrázkový odkaz na můj poslední outfit, zkrátka ho nepropásnete! poté je tam odkaz na mojí nejnověji vytouženou věc, jako tip pro vás, co a kde si koupit. také tam mám malý náhled mého posledního videa. a nakonec jsem přidala odkaz na můj momentálně nejoblíbenější článek, ať už na zahraničním nebo českém blogu, díky kterému můžete vidět odkud čerpám inspiraci nebo se třeba naučit nové DIY.
tak na co ještě čekáte? UTÍKEJTE SE PODÍVAT a přidejte si mě!