rose gold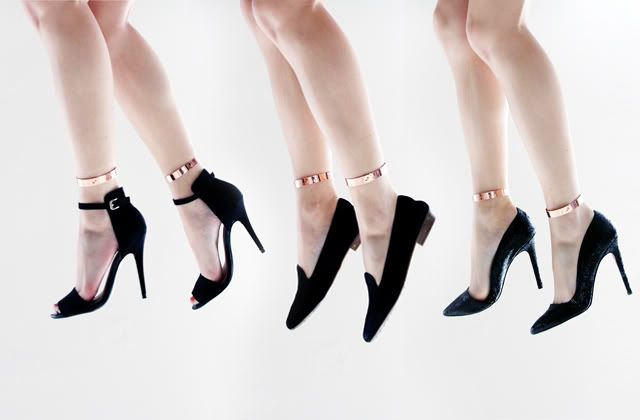 nothing is as quick as putting on a pair of anklets and nothing is as effective at lifting up any pair of shoes and any kind of outfit. what am i talking about? well rose gold accessories of course!
i am in love with my still-quite-too-small collection of rose gold (that has grown particularly thanks to my dear Boo and her trip to Sweden). especially these said anklets (that are actually bracelets falling off my teeny tiny weird hands) and the popular metal hair scrunchie. while sitting in your black blazer and ironed shirt in an office full of bankers, these little details show off that you're actually a clothing freak rocking colors, prints and craziness over the weekend.


není nic snazšího než nasadit pár nákotníků a nic tak efektivního, co by tolik pozvedlo jakýkoliv pár bot či jakýkoliv outfit. o čem mluvím? o doplňcích z růžového zlata samozřejmě!
průběžně se víc a víc zamilovávám do mé ještě-ne-tak-velké sbírky růžového zlata (která výrazně narostla hlavně díky mé drahé Boo a její cestě do Švédska). hlavně do těchto zmiňovaných nákotníků (hezky česky náramků, které padají z mých divných pidi-midi rukou) a populární kovové gumičky do vlasů. i když sedíte v černém saku a pečlivě přežehlené košili v kanceláři s dalším tuctem bankéřů, tyhle drobnosti o vás prozrazují, že jste jinak módní nadšenec co o víkendu prohání barvy, vzory a jiné bláznivosti.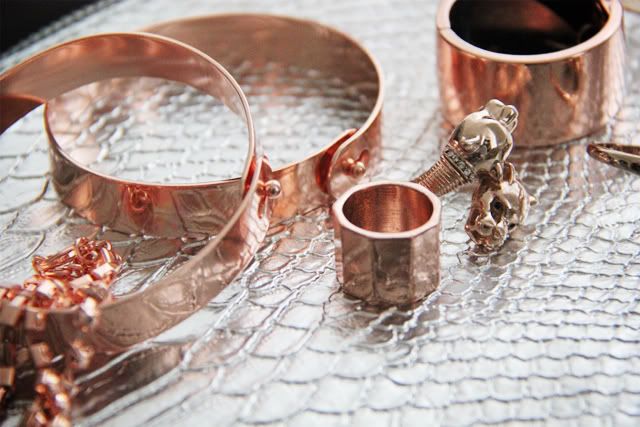 shoes (from left to right) Zara, Humanic, Stradivarius | scrunchie H&M | bracelets H&M | rings from my mum | snakeskin silver clutch Gina Tricot