wishlist: hard time choosing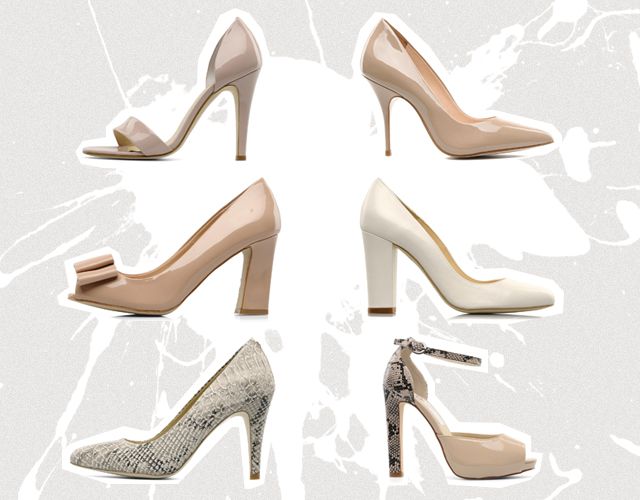 Georgia rose sandals | I Love Shoes nude bow pumps | Supertrash snake pumps | Studio TMLS nude pointy pumps | EDEN white pumps | I Love Shoes peep-toes with snake detail
it's exam time guys. apart from being stuck with books and notes the whole month it also means i'll be able to shop without having guilt on my mind. well. sort of.
but it's nice getting yourself a little reward after a terrible - extremely exhausting - exam, isn't it? new shoes will calm your nerves, trust me.
a little problem though. once i opened the fantasy world of Sarenza (finally a new EU site launched, exciting!), rewards immediately turned into motivation. or pre-rewards if you like. so now i have to decide. buy comfy and elegant shoes to rock all the exams with them on or super high sandals to party in afterwards? or something in between with a little snake detail giving it the little extra something?

it's on you. help me decide please. which one of these should i buy (first)? and which one are you buying?


je tu zkouškové vážení. a kromě celého měsíce protrpěného u knížek a poznámek to také znamená, že budu moct nakupovat bez černého svědomí. tedy, tak trochu.
ale není to fajn si po děsivé, extrémně únavné zkoušce, koupit malou odměnu? nové boty uklidní nervy, to mi věřte.
ale je tu menší problém. jakmile jsem nahlédla do fantazie jménem Sarenza (nová EU stránka, jásejme!), odměny se rázem staly motivací. nebo před-odměnami, jak chcete. takže teď se musím rozhodnout. koupit pohodlné elegantní boty, se kterými zvládnu všechny zkoušky levou zadní (nebo alespoň levou botou) nebo super-vysoké sandálky na párty následující po tom? anebo něco mezi s hadím potiskem, který tomu dává něco extra?

je to na vás. pomozte mi. které bych si měla koupit (jako první)? a které si koupíte vy, děvčata?