resort 2013
i couldn't skip on sharing the great resort 2013 collections that blew my mind. i find them very inspiring and i might be a little too influenced by them already. for example this week i bought printed wide, WIDE trousers. trousers i would've sworn not wear ever only a year ago. but now they're mine. and they're lovely. and they're so Céline-ish, i love it. but it's not only wide trousers you'll get to see in the new resort collections. there's much more.

nemohla jsem se nepodělit o novéa skvělé resort 2013 kolekce, které mi doslova vzaly dech. už teď z nich čerpám inspiraci a možná mě začínají pohlcovat až příliš. například tenhle týden jsem si koupila kalhoty. s potiskem. a široké. ŠIROKÉ! kalhoty, u kterých bych vám ještě před rokem tvrdila, že ty si na sebe nikdy nevezmu. a přísahala bych na mou duši. ale teď je mám. a jsou boží. a tak moc mi připomínají styl Céline! ale nejsou to jen široké kalhoty, které uvidíte v nových kolekcích. uvidíte mnohem víc.


i'll kick off with my favourite, the Chloé resort. you know Chloé is my all time favourite (hence my nickname) so it's no suprise i picked this resort collection my favourite so far. the reasons are obvious aswell. it's me. light earthy colours, pieces that work well on their own aswell as they do together, interesting cuts, looser and comfy shapes. and materials i would love to sleep in just seeing them from the photos. effortless yet feminine. urban romantic. it's me.
načnu to rovnou mým favoritem, Chloé kolekcí. určitě víte, že Chloé je mezi mými stálými oblíbenci (mrkněte na přezdívku) takže není žádné překvapení, že je to zatím moje nejoblíbenější resort kolekce. určitě také víte proč. jsem to já. světlé, přírodní barvy, kousky, které fungují samy o sobě i dohromady, zajímavé, ale jednoduché střihy a volnější, pohodlné tvary. a k tomu materiály, ve kterých bych nejraději spala i když je vidím jen na fotce. nenucené a přesto tak ženské. městské a přesto romantické. jsem to já.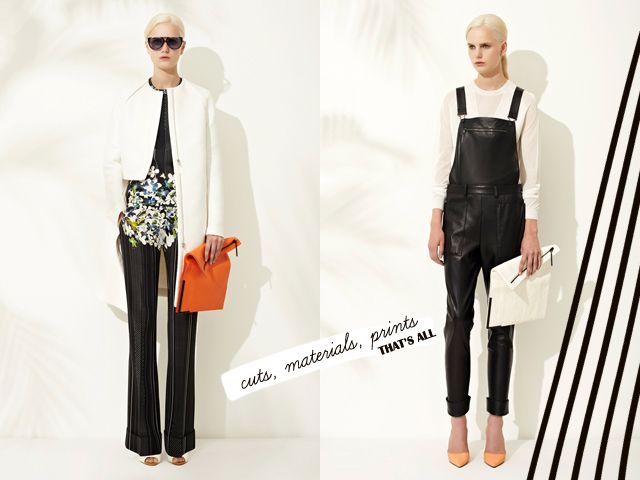 flower prints (i still didn't get tired of) combined with asymmetry. and then luxurious workman in an overall made in leather. leather overall, hello! do i really need to say more!
P.S. lusting every single handbag from 3.1 Phillip Lim so far!
květinový potisk (kterého jsem se stále ještě dostatečně nenabažila) smíchaný s asymetrií. a k tomu luxusní dělnice v kožené kombinéze. v kožené kombinéze! opravdu je třeba říkat něco víc?
P.S. chci snad všechny kabelky, co kdy 3.1 Phillip Lim vyrobil.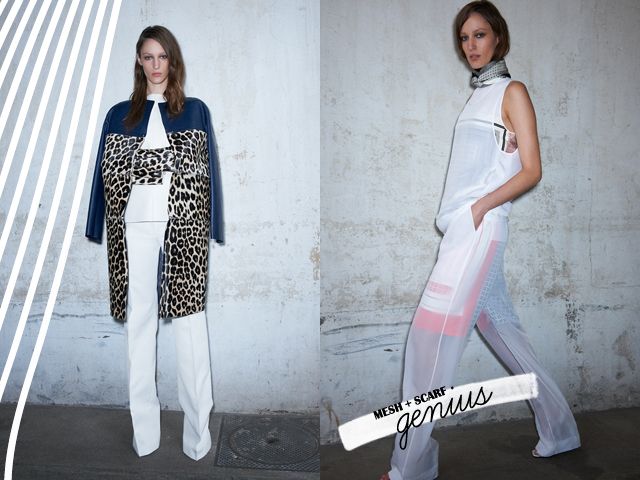 Phoebe Philo is a genius for (obviously not only) putting mesh and scarf print together. sort of screams DIY (or rather put on scarf and mesh over it), doesn't it? i shall give it a try because it's perfect! apart from that i don't mind Celine's regression to the key features the brand has got to offer. it works well. and i am sure the leopard outfit would work well on me, too. it's my birthday in 2 weeks, who wants to give me a present?
Phoebe Philo je génius (samozřejmě nejen) za zkombinování "šátkového" potisku s poloprůhledným hedvábím. vyloženě to křičí: "Zkus mě taky!". a já zkusím, protože je to prostě perfektní! mimo to mi absolutně nevadí návrat k Céline klasice a žádné velké inovace ve střizích. naopak. funguje to, pořád. a já vím, že na mě by fungoval ten leopardí kabát se zbytkem. a za dva týdny mám kulatiny. kdo mi chce dát dárek?




every now and then the Olsen twins suprise me with their outfits. it's not as often as it used to be before, i stopped liking the super "i just got outta shower/bed/party" looks they started pulling off but every now and then i got haunted by their appearence on some gala evening where they looked simply gorgeous. this was one of the times. Ashley had the purple gown during the CFDAs and i loved it on her. and immediately imagined myself wearing it. i love the mix of loose and unusual lengths in the Row's collections. and of course the luxury written all over it. this resort collection got me especially for the colours. and i never knew until now but blue patent leather skirt has always been my dream.
sem tam mě Olsenky překvapí svými outfity. už to bohužel není tak často, jako to bývalo dříve, protože mě přestal bavit jejich "právě jsem vylezla z postele/sprchy/zakouřeného baru" look, který začaly nosit až podivně často. ale čas od času mě jejich vzhled na nějakém gala večeru naprosto nadchne. a tohle bylo ono. Ashley na sobě měla tyto fialové maxi šaty během předávání cen CFDA a šíleně jí to slušelo. a já si okamžitě představila v šatech samu sebe. líbí se mi kombinování volných střihů a nezvyklých délek, které the Row předvádí ve svých kolekcích. a samozřejmě ten luxus, který z kousků vyzařuje. tato konkrétní kolekce mě dostala zejména kvůli barvám. a doteď jsem o tom nevěděla, ale sukně z modré lakované kůže byla vždy mým snem.


photo source style.com | edited by me
i also liked the Tibi and Proenza Schouler collections so far (images on my
Facebook page
) and i am curious what Alexander Wang will be showing this year.
what about you? what resort collections do you like?
také se mi líbila kolekce Tibi a Proenza Schouler (fotky na Facebookové stránce) a jsem zvědavá, s čím letos příjde Alexander Wang.
a jaké kolekce se líbí vám? máte favorita?