InstaVary

kolonáda // přípitek o přestávce v Thermalu // vyrážíme na zahájení festivalu do hotelu Thermal // cesta na první film

as an exception i post these Instagram (@adelachloe) pictures to show you at least a little from my stay in Vary. i had two reasons to go. the first one was, of course, to finally see the international film festival which i've been trying and wanted to see since forever but it never happened. mainly because i always remembered too late. the second reason was to celebrate my 20th birthday. remember, last year? this time it was a whole lot different. much more action i would say.
both missions, to see as many movies as i can & to celebrate my birthday in an unusual but proper way, were accomplished. we got the chance to see the opening ceremony with Helen Mirren, the premiere of Good Vibrations (a film i would not expect to be the opening one at all even though i loved it, unlike our president) and then drink a LOT of wine at the afterparty hosted in Grandhotel Pupp. i'll let the photos speak since i am packing for Sarajevo (which is also having a film festival - wish me luck so i can meet Angelina Jolie!) and i am still very tired from Carlsbad. no wonder. i had a great time!


výjimečně přidávám fotky z Instagramu (@adelachloe), abych vám mohla ukázat alespoň trochu trošičku z mého pobytu ve Varech. měla jsem dva důvody jet. ten první bylo samozřejmě vidět mezinárodn filmový festival, na který jsem plánovala jet už celou věčnost, ale vdy jsem si vzpomněla až pozdě a nikdy to nedopadlo. tak letos konečně! druhým důvodem byla oslava mých 20tých narozenin. pamatujete si na minulý rok? tak tentokrát to bylo zcela jiné! mnohem víc akční, řekla bych.

obě mise, vidět co nejvíc filmů půjde & neobvykle, ale pořádně oslavit moje kulatin, byly splněny. i jsme měli možnost jít na zahajovací večer s Helen Mirren, vidět premiéru filmu Good Vibrations (film, který bych na zahajování naprosto nečekala, ačkoliv se mi - narozdíl od našeho prezidenta - velmi líbil) a pak pít hodně HODNĚ vína na afterparty v Grandhotelu Pupp. teď už raději nechám mluvit fotky, protože se musím dobalit do Sarajeva (kam jedu zítra a kde se také koná festival a pokud budete hodně držet palce, potkám Angelinu Jolie!) a jsem ještě z Varů šíleně unavená. není divu. měla jsem se úžasně!



Tonya Graves na afterparty v Puppu // palmičky v Puppu // v 11:53 jsem dostala svůj oslavenecký dortík se zapálenou sirkou (ještěže mám kuřáka) // Velký sál Thermal pře premiérou Good Vibrations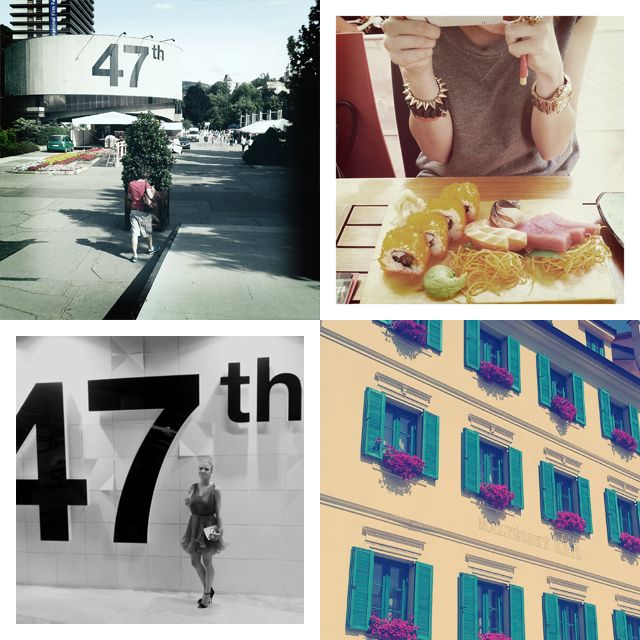 příjezdový den, zatím vše ve výstavbě // sushi time mezi filmováním // 47. ročník KVIFF a 20. ročník Adélky // na Varech miluju především ty překrásné a upravené balkony hotelů, penzionů a vilek


did you visit KVIFF this year? are you going to?
find more pictures (not only) from the festival on Instagram @adelachloe

navštívili jste letos také KVIFF? nebo se ještě chystáte?
více fotek (nejenom) z festivalu na mém Instagramu @adelachloe