asymmetry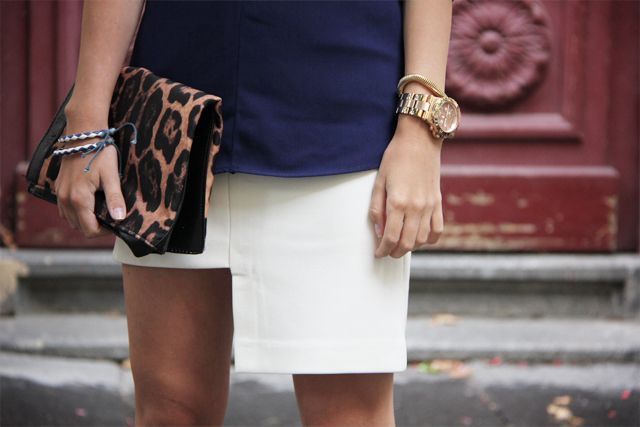 white skirt is one of the top 10 things that should be in your closet. for a long time i've been hunting for a white leather skirt (and i might still be actually) but this nice asymmetric piece will do for now. i love the fact it can be worn in two different ways. i dislike the fact that while it's already on sale in different cities (saw it on sale in Munich) it's still fully priced in Prague. is it just me or do they really never put H&M trend pieces on sale here?


bílá sukně je jedna z top 10 věc, které by měly být ve skříni. dlouho dobu jsem pátrala (a v podstatě stále pátrám) po bílé kožené sukni (v podstatě si říkám, že nejlepší bude koupit kůži a nechat si jí ušít), ale tahle asymetrická bude zatím stačit. líbí se mi, že se dá nosit dvěma způsoby. a nelíbí se mi, že zatímco v ostatních městech už je na slevě (viděla jsem ji v Mnichově), tady se zvesela prodává stále za plnou cenu. myslím si to jenom já, že u nás H&M trend kousky nikdy nejsou do slev?


H&M trend skirt | Zara top | Zara sandals | Michael Kors chronograph watch
photos by Bárb
my moods have been rather asymmetric too lately. i guess i really need to go on holidays somewhere with enough sun and sand and sea as soon as possible. so far i've only been to European cities and i didn't get much chance to just lay down on the beach and relax. and the fact that so many (seriously, everyone!) bloggers i follow suddenly started uploading photos from my fave Barcelona is not helping at all. any tips on trips? where have you been on holiday so far?


moje nálady jsou v poslední době stejně nevyrovnané jako ta sukně. mám pocit, že opravdu potřebuju co nejrychleji odjet někam, kde bude dost slunce, písku a moře. zatím jsem jen objížděla evropská města a vlastně nikde neměla velkou možnost si jen lehnout a relaxovat. a fakt, že šíleně moc (v podstatě všichni, opravdu!) bloggerek, které sleduji, začaly přidávat fotky z mé nejoblíbenější Barcelony mi nepřidává. máte nějaké tipy kam? kde jste zatím strávili svoje prázdniny vy?